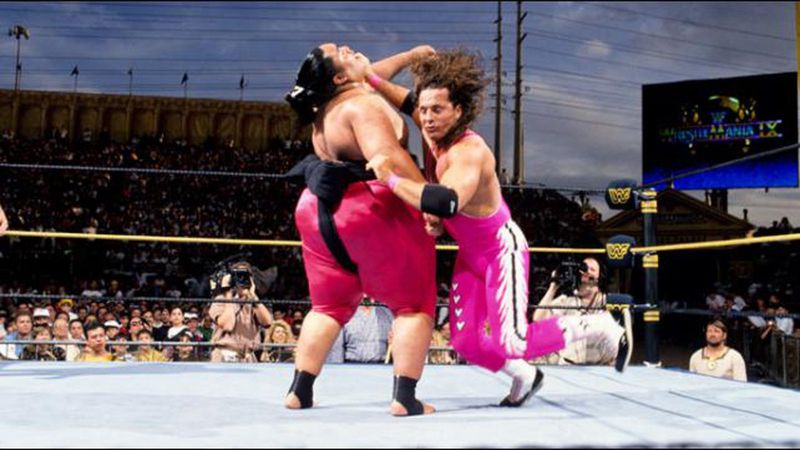 When you watched every single Wrestlemania like I have, you should be surprised that there are plenty of good matches that has been forgotten or unappreciated over the years. Is it because the match was overshadowed by the main event, did the wrestlers involved had a more icon match, or was it because it was in the mid-card and everyone put so much focus on what has been advertised/headlined for a Wrestlemania show. In any case, this is what makes watching an entire wrestling show worth a damn; you'll end up seeing matches that you've never seen before that will sweep you off your feet! I have reviewed every Wrestlemania so click on the link at the bottom to see what I think of every match in every Wrestlemania
So how did these matches get forgotten over the years? Possibly because the WWE doesn't really hype up or promote the good matches as they should, instead of reminding us continuously about the historical matches. Not every good Wrestlemania match needs a Wrestlemania-moment, they need to have a good story to tell, great in-ring action, and surprises that will keep you remembering it. These are the matches that I was genuinely surprised to see and had the privilege to experience them! I urge you to watch these underrated Wrestlemania gems to see what's beneath the WWE's propaganda and hype.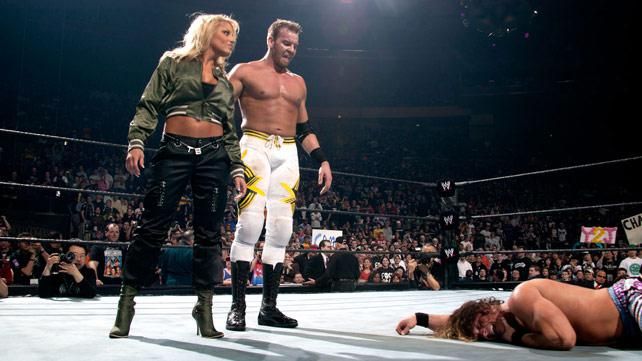 Number 10.  –  Christian vs. Chris Jericho
Coming into this match Christian and Jericho were tied into a tell told storyline where they both got in a love affair with Trish Stratus and Lita. Because of one nasty talk behind Trish's back by gambling which one was going to bang their girl for 1 Canadian dollar ruined the double date. Eventually, Christian assaulted both Trish and Jericho leading into WrestleMania XX, and a match between the former friends was booked for the show. Jericho and Christian, two of the best in-ring workers of the Raw brand, delivered a very good match that lasted just under 15 minutes. Jericho showed great fire and intensity early, as he unleashed his anger on the former Intercontinental champion. Late in the match, Trish made her way to the ring and almost instantly became a target for Christian. He brought her into the ring by her hair, then shoved her down in the corner. When Jericho attempted to check on her, she caught him with what appeared to be an inadvertent elbow, allowing Christian to roll him up and score a cheap win. After the match, Trish slapped Jericho and revealed her relationship with Christian to the shock of the Madison Square Garden crowd. The match ended so dramatically in a soap opera-ish finish that left all of us in shock that such a heel turn has blew right in our faces! This is really an underrated Wrestlemania match and you can see Christian's potential as you watch this match that still makes you wonder why wasn't he as big as Jericho.
Number 9.  –  Marc Mero and Sable vs The Artist Formerly Known as Goldust and Luna 
This was where the Goldust character was really loosing it's consistency where now he's called "The Artist Formerly Known" which is just not very good in my book. However, what was very good was how well Sable and her jealous husband Marc Mero carried out this match. Sable used to be the most popular woman in the WWF because not only was she incredibly attractive, but she had the attitude to perform great matches and the aggressiveness that no other woman had in the business at the time. This was the first time since Chyna's debut where the women wrestlers did a much better job than the men she's booked up with. Sable was so empowering that she simply got the crowd roaring in her control and that's someone like a Hulk Hogan can do. Admittedly, it's not much to say because Goldust and Luna were more or less a joke in this match, but it was all Sable showing that she's not just a pretty face and because of it she won this match. It's a shamed that her WWF career was so short-lived because she had sexual harassment problems with the WWF, but if she advanced her career, who knows more memorable she would have been today. This match really showed her potential and it's impressive to watch a pretty face like her to be taken seriously.
Number 8.  –  Cactus Jack & Chainsaw Charlie vs. The New Age Outlaws (c) – Dumpster Match for the Tag Team Championship
Foley and Funk are the most iconic hardcore legends in the wrestling world and they both had great chemistry together, both rivals and tag teams. This was a fantastic hardcore match where the object of the game was to put both members in the dumpster and close the lids to win the match. It was a crazy match that was totally fun. Both teams tried everything to put both opponents in the dumpster that they've included all sorts of non-wrestling objects as weapons and also included a ladder where Mick Foley and Billy Gunn both fell from the ladder to the dumpster. The brawl went so insane that they brought the fight backstage just to find another dumpster just to not only put New Age Outlaws in there, but seal the lids with a crater to win the Tag Team Championships, and deservedly so. The attitude era needed these two ECW stars to show what hardcore wrestling's about and since then the attitude era continued this tradition that started in ECW.
Number 7.  –  Stone Cold Steve Austin vs. Scott Hall (with Kevin Nash)
Now this is a tough decision to make because everyone knows that Stone Cold and the Rock are two the biggest stars in the WWF, and let's be honest here. Either one of those men could either challenge Hulk Hogan, but the other had to face Razor Ramon and Diesel (I'm a New Generation fan so I'm calling them that). I know every Stone Cold fan always wished for Hogan vs. Austin at a Wrestlemania event and I do agree that it's something to be desired. But for all of you marks that think that this match was unnecessary, you guys have to get your heads out of your asses and remember Razor Ramon! He's was the biggest star of the WWF in one point in time and before he move to WCW, he could have been WWF Champion. Ramon, Hogan, and Nash were hot shit in WCW forming the fucking nWo; a faction that kicked the WWF's ratings for over 2 years! How is Razor Ramon not credible to take on Stone Cold? He beat Shawn Michaels in the Ladder match in Wrestlemania X and he was more than able to take on anyone at that age. I always wanted to see what it was like to have Stone Cold brawl with nWo and we had that many times on Raw (before and after this show) and here in Wrestlemania, it was actually fucking epic! This is something that Stone Cold needed in his Wrestlemania moment where he brawl Razor and Diesel for a match that was supposed to be one-on-one, it was a hell of a brawl! You know what? I can argue that this is some of the best brawls that I've ever seen in a Wrestlemania that didn't involve blood, weapons, or ultra violence to show how serious this match is. Kevin Nash was so into this fight that he not only interfered multiple times in this match, but he also took out many referees and beat down Austin like a dog, while Austin fights back the both of them. Did all of you guys forgot how huge all three of these men in this match were before and during this Wrestlemania? In case if you forgot, this is the match where Stone Cold Steve Austin has given the best Stunner of all time!!
If you weren't impress with that, then you're actually difficult to impress anyway. Look, I'm like the next guy who hungers for Hogan vs. Austin, but you have to remember that Stone Cold lost A LOT of popularity from turning heel at the end of Wrestlemania 17 and joining forces with the Alliance faction in the Invasion angle. It doesn't even help that Austin had ditched the company when he was fighting with backstage politics and creative control later in 2002, so he shot his career in the foot. You have to know why Austin is not as big as he was back in 1998 when he used to be a top star, but since he couldn't keep up with the guys who where in the same league as he was, it was him that ruined the opportunity for a Wrestlmeania event with him vs. Hogan! You need to accept the fact that Austin put himself from the inevitable and kept all of us wishing for more. Yes, I still would say that Hogan vs. Austin at Wrestlemania 19 should had happened, but face it, this is what it is. And you have to look at this brawl for what it was, I still think that it fits Austin's résumé and this is the closest that we're going to have for a real WCW vs. WWF stipulation!
Number 6.  –  Roddy Piper vs Goldust (with Marlena) – Hollywood Backlot Brawl
Back in 1994, the infamous the OJ Simpson chase was huge! It got media press everywhere when it happened and the OJ Simpson trial was the biggest trail of the century. The OJ Simpson incident and trial went on for over a damn year. This was everywhere where it dominated American pop culture and it's a huge inspiration for this match. The Hollywood Backlot Brawl was a parody of the OJ Simpson White Bronco chase where the fight began after the Cornette Camp vs. Yokozuna's team where it lead to a car chase, that's similar to OJ's chase. The rivalry between Piper and Goldust was intense because Goldust had a huge "thing" for someone as manly as Piper and Piper was so sick of it that he wants to make a man out of him by beating the life out of him. Throughout Steven Austin vs. Savio Vaga's match, Vince McMahon and Jerry Lawer at commentary got phone calls of Piper while he was chasing down Goldust by car, only to have them perfectly comeback to the Wrestlemania event that start the whole match. This match was chaotic, it was brutal, physical, and the kind of stuff that you get a chance to see in the attitude era. This was a certainly different direction for the WWF to do that certainly amazed everyone watching. Of course if you had this match in Wrestlemania 15, 16, 17, or 18 when Attitude era and hardcore wrestling was still around, this would of been another one of those matches that blends well with the them of the show, but when we're talking about having a hardcore match during the New Generation Era, it was not only innovative for the WWF, but it was a precursor of what will be the standard of the Attitude Era's hardcore wrestling. They both brought the fight all the way to the ring where the fight finished. I loved this match because it was dynamic and the built-up towards this match more than just delivered, it came beyond expectations. This was our very first hardcore wrestling match in the WWF. Although it was bizzard to see Piper rip-off Goldust's attire and revile that he's wearing a lingerie underneath (for humiliation purposes), it didn't have a proper finish, but it didn't need to. After that brutal beatdown, it's obvious who won the fight. It was an impact for Wrestlemania that was the steppingstones to the Attitude Era the following year and for it to be a first time ever done in the WWF, it was historic!
Number 5.  –  Taka Michinoku (c) vs. Aguila – Light Heavywieght Championship 
It's ashame that the Light Heavyweight division in the WWF is very obscured and forgotten because it lost credibility because the parody Gilberg won it for over a year (not having any booking for that long) and there weren't that many matches including the Light Heavyweight matches. It's a shamed really because WCW did their Cruizerweight and international style wrestling incredibly well back in the day and WWF tried to do their take on this style of mid-card wrestling to include Aguila and Michinoku. This match was all in-ring work and highflying moves that perfectly works well. I wonder why nobody remembers this match because it was an incredibly well performed match. It's a real surprise to find a match like this in a Wrestlemania card because you expect to see something like this in a WCW Starcade instead. I think that the Attitude Era would have welcomed this style of wrestling if only the bookers of the WWF could make great stories for this division and unfortunately, later in that year that had to give it to "Gilberg" and had to hold it over a year and have VERY little television appearances. Anyway, Taka Michinoku won the match and that's left without anything to remember, unfortunately. But since we have the WWE Network, go watch Wrestlemania 14 again and get your minds blown to see that this actually happened in the Attitude Era!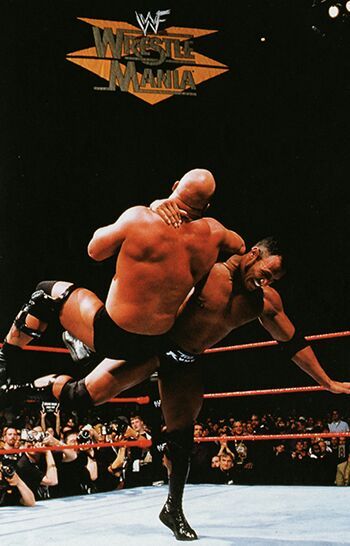 Number 4.  –  Stone Cold Steve Austin vs. The Rock (c) – No DQ for WWF Championship
I bet most of you are wondering why I consider this match "underrated" even though Rock and Austin are one of the best rivalries in the WWE. Well, how many do you know actually says that this match is better than their matches in Wrestlemania 17 and 19? I'm certainly one of those individuals that considers Rock-Austin match in Wrestlemania 15 their best because there was no bullshit finish (Wrestlemania 17) and it didn't became that kind of match where they threw in too many finishers (Wrestlemania 19). After all the horrible matches that we all had to endure in Wrestlemania 15, at least this main event almost saved the show from being the worst Wrestlemania ever. The Rock has already made himself a great wrestler and he deserved to become WWF Champion after winning it in the Survivor Series tournament. It was a great way to make a new star instead of just having Austin to be the top guy. Everyone still talks about how great Austin vs. Rock is because it was as epic as Ric Flair vs. Dusty Rhodes, Hogan vs. Andre, and Bret Hart vs. Shawn Michaels. Out of all the bad booking in this card, this is the finale that did it right. This whole show as built up for having Austin to main event this Wrestlemania and it was hyped up well. We're talking about Vince McMahon beating Austin in the Royal Rumble Match 1999, then Austin beating Vince in a cage match at St. Valentine's Day Massacre, using a beer truck to pour beer at Rock, Shane, and Vince McMahon… if none of that made you want to go see this Wrestlemania, I don't know what will because it was the craziest time in the WWF's history. This match delivered because it was a combination of hardcore wrestling, showmanship, and even technical brawls. Think about Wrestlemania main events and this match truly fits that picture. I just couldn't believe the punishment that these two where taking from landing on concrete floors, falling on a lights and other steel objects, and did everything to keep each other down. It was a very chaotic match were even many referees gets knocked out. Hell, even Vince McMahon had to come in and try to give the Rock the win because neither one of the men could put the other man down for the count. But thankfully, this is the match that threw in so much in a singular match, having Vince McMahon involved, Mankind return as special guest referee, so much mayhem happening, and finishers applied towards each other just to do everything they can to put the other over. Suddenly, that last stunner proved to be the most effective and it earned him another main event victory, but this time it's Vince McMahon's loss. This proved to be one of my favorite main events in a Wrestlemania. It shows why Stone Cold Steve Austin and The Rock were made for each other and they both face each other in 2 more Wrestlemanias in the future that couldn't hold the candle to their first match together.
Number 3.  –  Bret "Hitman" Hart vs. Rowdy Roddy Piper
Just like Shawn Michaels, Bret Hart broke away from his tag team to start a promising solo career and you couldn't get a better Wrestlemania moment than to face a big name like Piper. This is what Intercontinental Wrestling is all about, any style of wrestling just to become the number 2 guy of the company and what a match that these two had. Hart vs. Piper was a very solid technical match that is all about athleticism that was always there in Hart, but never could imagine a brawler like Piper to keep up with this style. There was so many intense moments where they faced each other eye to eye to make the match greater. The fact tat this match got so physical that even got Bret to bleed should show you the importance that the Intercontinental Championship once had. Each of them took their turns to brutally hurt their opponent that both men carried the match equally. No doubt was this the best match of Wrestlemania VIII. Bret really made his performance in this match look like he's in serious pain that made the whole audience to passionately cheer for the Hitman. It was fantastic to see Bret Hart reverse that sleeper hold into a pinfall that earned him that Intercontinental Championship. What a hell of a match that will go down as one of the best wrestlemania matches, but without argument the best match of Wrestlemania VIII. In the end, it was sweet to have these two to become real sportsman by shaking their hatred off and shook for delivering the best out of the two. No doubt, Bret Hart brought the best out of Piper that I never knew had it in him (because of his poor Wrestlemanias before) but it left a big impact in the Wrestling world.
Number 2.  –  Mr. Perfect (with Bobby Heenan) vs. The Big Boss Man
Two of my favorite classic wrestlers from the golden age of wrestling makes it here for the Intercontinental Championship. It was a solid match where a technician goes up against a big brawler and I was impressed to see great energy from Boss Man that we don't get everyday. For a man who took it personally that had his opponent making fun of his mother, you can see how personal this match really was. Boss Man was so mad that he even used his own belt to whip Kurt Henning in the back. This shows how talented Big Boss Man really is as he was able to keep up with Mr. Perfect with his tactics and athleticism. It sure was the best brawl of the night and it ended pretty well with a surprising return of Andre the Giant making his last ever appearance in Wrestlemania by interfering against Mr. Perfect. He came back for unfinished business against Heenan from the last Wrestlemania. It was legendary to see Andre hit Mr. Perfect with the Intercontinental Belt just so he can get Heenan back. Of course, the match was too good to be true as the Barbarians interfere the match, making Boss Man win by disqualification but since he didn't pin or submit Perfect, he didn't win the belt. I'm fine with the result because we never seen Big Boss Man to have a match this good and Andre came back for action. I loved it! I wonder why nobody talks about this classic!
Number 1.   –  Mickie James vs. Trish Stratus 
I love the storyline building up to this match where Mickie was Trish's biggest psychotic fan but obviously it was because she's in love with her at the point where she's obsessed. The fans grew crazy over Mickie James as a character because she was so bizarre but in the attractive level. And what these two offered was THE BEST WOMEN'S MATCH THAT WRESTLEMANIA HAS EVER HAD. This match is so impressive at the point where it was better played than any match in Wrestlemania 22's card! I'm a huge supporter of women's wrestling and this match certainly stole the show! You heard me right, this match was even better than the Foley-Edge match! It's almost everything that I wanted to see in women's wrestling where these two delivered technical, high flying, and brawls and it certainly told a wonderful story throughout! I know people find it controversial to see Mickie James threw in so many suggestive moves on Trish, but it was sexualized the right way because it was telling us a great story between the two. The whole audience chanted for Mickie because she certainly wrestled better than Trish (which is why she's better as a wrestler). Mickie had the upper hand in this match when Trish missed the chick kick and hit herself in the ring post. Throughout the match Mickie worked, creatively, on her leg while Trish came back with a fight! But each time Trish gets herself back up or hit Mickie back, the whole crowd boo'ed at her. I'm really left surprised to see Mickie controlled the whole crowd like Hogan did at Wrestlemania 18. I remember when Mickie reversed that Stratusfaction move and rammed her damaged leg on the ropes that she screamed with excitement at the crowd as they all cheered for her! That also was a sexual where she felt Trish's crotch when she tried to reverse that backdrop. Certainly Mickie James deserved the victory and simply stole the whole show! Never again did Wrestlemania ever had a woman's match as good as this one but for representing what the Diva's division was all about, it delivered! The Mickie-Trish match that had the best crowd reaction and was better performed than all the other matches in the card! I' was proud that the Mickie-Trish match delivered the best of the women's matches that we all wanted to see! This Wrestlemania still is the most surreal Wrestlemania show, but (despite the negatives), but it's matches like this one that made the show for me. There should be more people out there that should tell the WWE that this was a fantastic wrestlemania match so one day we can get another women's Wrestlemania match as good as this one!
Related Articles