There are only three things about the Attitude Era that everyone should definitely watch; the storytelling that was a significant improvement over the New Generation Era, the segments/promos that were incredibly entertaining, and the matches had were so varied and physical than any other time in the WWF. Because crash tv in  the late 1990's was so popular, WWF had to final stick with the times to survive in rivalry with WCW. It is considered one of the most dangerous times of being a wrestler because of all the stunts and bumps they all took, but because they made its audience so vicarious and entertained, it left all of us a huge impression. So huge in fact that it was more historic than anything that the WWF could ever do nowadays and still remains timeless. Many wrestling fans cherish these moments of the Attitude Era so passionately because there never was a better time of wrestling where finishes were creative, the action going on keeps us on the edge of our seats, and the storytelling in the match always feel different in each and every one of those matches. All of the sudden we've gotten a brand new audience who never watched wrestling before now wanting to see these matches. There were so much exposure to the WWF/WWE product during this era because nobody in mainstream television was doing all the things that they were doing. It was not just strategy of how to win the match that's now in play, but how much pain and punishment could they endure when the hardest bumps and so many foreign objects hits you. If there's one thing that the Attitude Era avoided perfect, they avoided repetition. All of the matches from King of the Ring 1996 to Wrestlemania 17 were different and 100% watchable, if not entertaining. And these are the ten best wrestling matches that exceeds my love for the Attitude Era as a whole!
Honorable Mentions
Over The Edge: Dude Love vs. Stone Cold Steve Austin
The match was a fantastic brawl that had an incredible ending perfect as it gets with multiple referee bumps and outside involvement, and it certainly went over the top. This is the reason why I miss the Attitude Era so much because they always come up with a creative finish and the finish was perfect! Austin pinned Dude Love by slapping the lifeless hand of Vince McMahon to the mat three times that allowed him to retain the WWE Championship to the roar of the Milwaukee crowd. This match worked because no one involved took it too seriously. Bodies flew everywhere, and Austin one-uped Vince McMahon again.
Unforgiven 1998: Undertaker vs. Kane – Inferno Match
The gimmick of fire surrounding the ring takes so much attention off the quality of the in-ring work. And that's why it's perfect for a brotherly feud between Kane and Undertaker. After Kane screwed Undertaker from the first Hell in a Cell match, they kept fighting each other non-stop throughout 1998. After coming so close to defeating Undertaker at Wrestlemania 14, Kane wanted to go beyond winning over Undertaker, he wanted to burn him alive. Each time someone slams on the mat, the fire burst out. It's insane that they even took the fight outside of the ring because the level of hatred couldn't hold them from the heat coming in the ring. One of the most dangerous matches perfect for the darkest of wrestling angles.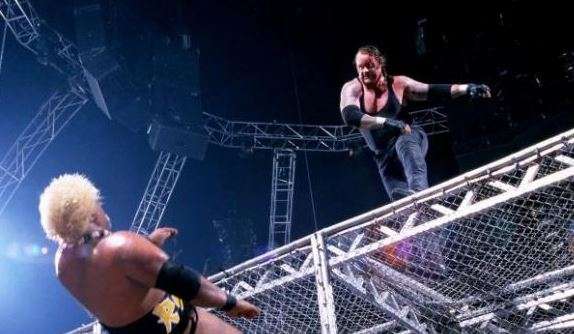 Armageddon 2000: 6-Man Hell in a Cell
I'm not a huge fan of over-booking in a singular match, but this is an exception because these 6 men were the attitude era's biggest fishes and they given one of the most memorable Hell in a Cell matches of all time! No way was this match going to be kept in the Cell so we were definitely treated with brawls in, out, and on top of the Cell. Hell, Even Rikishi was tossed off the top and landed on a truck that Vince brought in to tear up the Cell. And what's a huge surprise of all, is that Kurt Angle won this match! If you love matches that are very chaotic, look no further than this match! Was it the right booking decision, maybe, but with 6-men involved its hard to believe that the WWF Champion retained his title with all the odds against him.
No Way Out 2001: Trish Stratus vs. Stephanie McMahon
Let's not forget that the women wrestlers were just as part of the Attitude Era as any of the guys. Trish was definitely the hottest woman in WWE history and during this time she was smoking hot. And what made her hotter was her feud of bitches with Stephanie. It was incredibly to see that these two made their rivalry look so fiery and they did so many sexy moves that it made it one of the best Divas matches of all time. Trish getting spanked, water poured, and even the bumps that they've took looked effective. Too back the finish could have been better if there was a clean victory.
_________________________________________
Number 10.  –  Breakdown: The Rock vs. Ken Shamrock vs. Mankind – Cage Match
A while ago I said it's a shame that Ken Shamrock never went as far as he could have been in the Attitude Era and I think it's because of this big loss in this match. Nevertheless, we haven't seen a cage match this good since Owen vs. Bret at Summerslam 1994. It's ashamed that this match is forgotten over the years, but it's certainly one of the Attitude Era's most hidden gems. The fact that this cage match was also triple threat show how much hard it is to get out of the cage or win with a fall. There were so many bumps made in the ring that felt like a real physical match. Each of these men really knocked each other out. I still remember Mankind took a high risk elbow drop from the top of the age and just crashed like crazy. I definitely love the finish of the match were Mankind brought in a chair and sacked it out of Ken Shamrock's head. Just as Mankind was climbing up the cage just place both feet on the floor, The Rock pinned Shamrock for the victory. It was a creative finish that had a very incredibly worked match happening in the cage. If there's one forgotten match from the Attitude Era that you need to see, look no further than checking out WWF Breakdown 1998!
Number 9.  –  Wrestlemania 14: Shawn Michaels vs. Stone Cold Steve Austin 
This was the match that set the standard of what the Attitude was all about. Shawn Michaels was infamous for being responsible for the Montreal Screwjob and he had no sympathy for what he has done to Bret Hart. The only man left that was worthy of facing The Heartbreak Kid at a Wrestlemania main event was the man who did not tap out when he face Bret Hart in last year's wrestlemania; Stone Cold Steve Austin. Because Austin showed how much of a badass he was when he passed in the sharpshooter and started to piss Vince McMahon since, got his popularity rising up and this was the match that he needed to forever establish himself as the all time great! Austin set himself for trouble when he got the whole D-Generation-X, Vince McMahon, and even Mike Tyson to go against him, how's able to win this match? The answer, do what Stone Cold does best. Shawn Michaels was also in some serious shit when he injured himself in that Casket Match against the Undertaker at Royal Rumble 1998 and it didn't look like he was going to last very long in this match. Surprisingly enough, he managed to keep up with the match and did his best to keep Austin down. For a man with an injured back, Shawn was able to move just like he normally did. Still, Austin gave Michaels a beating of a life time and the crowd was cheering with all their might for Austin to win. It was insane that Triple H and Chyna interfered in the match to save Shawn but was sent out of the ringside area to continue their one on one fight. The moment Stone Cold hit the stunner on Michaels, Mike Tyson came in the ring and fast counted for Austin's victory having Jim Ross shouted "Austin! Austin! Austin! The Austin Era has begun!" and right he was. Shawn represent the New Generation Era and the times had to continue with Stone Cold Steve Austin as the face of the company. 1998 was the year of Austin and McMahon as their rivalry really brought back the audience to tune back into the WWF's product. The best part of the whole match was the aftermath when Shawn got back to call betrayal to Mike Tyson only to get punched square in the face and lie flat on the floor. This was the right booking for the right winner and it was certainly one hell of a memorable Wrestlemania moment! And to say that this is the second greatest Wrestlemania main event and it's only number 9 shows how awesome the attitude era really was!
Number 8.  –  King of the Ring '98 / RAW 6/29/1998: Stone Cold Steve Austin vs. Kane
My favorite time of being a WWF fan was 1998 when we had only four major stars tearing each other up; Stone Cold Steve Austin, The Undertaker, Mankind, and Kane (and possibly Vince McMahon if you believe that). Though this was Austin at his prime, this was also Kane's prime as well were we had an actual horror-like monster as a wrestling persona that happened to be one of the best mystique characters of all time. He's had a an awesome debut interfering the Undertaker's match with HBK in the first Hell in a Cell, nearly this close to finish Undertaker at Wrestlemania, Tombstone Pete Rose (twice), and even even took his rivalry with Taker in the most dangerous match, the Inferno Match! It really built his character all the way to a WWF Championship against Stone Cold. And quite frankly, I'm putting two matches in two consecutive nights in this very list!
Sure, everyone thinks it's blasphemy that I put this match over the King of the Ring Hell in the Cell match between Mankind and Undertaker, but the match between Kane and Austin is what truly defined the Attitude Era more-so than that match! It's really cool to see a first blood-match but pretty obvious of who's going to loose because Kane had his mask on, but it didn't matter because this very match this match threw everything on the table to make it recognize it as Attitude. We're talking about taking the fight to the crowd, interferences with Taker and Foley, close-call finishers, many attempted murders (pouring gasoline on Ref), and even bringing the Hell in the Cell down making it a gimmick match that was damaged earlier (Mankind vs. Undertaker). But that nasty chair shot that Taker did on Austin was some of the most effective and it gave Kane his title. That was some of my favorite heel victories of all professional wrestling because it left us asking for more!
And more is what we got because the following night on free TV, we were given a rematch between the two as main event of Raw is War. Thought it probably could have been better, this was a fantastic climax between the two that captures fan satisfactory! It we're judging on fan reactions for this match, there was no bigger fan reaction than seeing Austin win the championship on free TV. The way he stunnered Kane for that victory was some of the most brutal that I've ever seen from any stunners that Austin gave to his victims. Many say that it wasn't fair that Kane only had his championship in less than 24 hours and they should have made that title-reign longer, but I doubt we're ever going to see the same Kane from the 1990s because his mystique is completely gone. Nevertheless, this was some of my favorite moments in the WWF and each time I look back at it, it reminds me why I'm still a wrestling fan!
Number 7.  –   Backlash 2000:
The Rock vs. Triple H
The Rock and Triple H has been rivals even before they were both leaders of Nation of Domination & D-Generation X. It's a fierce rivalry that was a backbone for the Attitude Era that delivered so many matches with them together. They had an iconic Ladder Match at Summerslam 1998, they main evented the very first Smackdown episode, and so much more. They both pushed each other to the limits; racing each other to their prime. But I wouldn't say all of their matches together were great because the Wrestlemania 16 main event left a horrible taste in my mouth and this match needed to deliver. The build up towards this match was that Stone Cold Steve Austin was coming back to end the McMahon-Helmsley Era and help The Rock capture the WWF title once more. This is the match that should have main evented Wrestlemania 16! These two were physical as ever and it was clearly a heel vs. babyface storyline at its best. The Rock had all the odds against him where Vince and Steph cheap shotting at ringside, Shane, Paterson, & Brisco were Special Guest referees, and the Rock only had only Austin left to save him. The match throughout was amazing to watch with both men giving off the most physical match of this whole era. The Rock never gave up the fight and each moves pulled here from both men caused a great impact and effect while watching. I still will never forget The Rock gave a double Rock Bottom to HHH & Shane on the announcer's table. Just when Brisco and Paterson came in to gang up on Rock, Austin's music hit and the whole audience roared! This was the best comeback to a wrestler who's had a long absence having Austin knocking out all of Triple H's allies with a chair. His return cause so much carnage to all of Rock's enemies leaving the Rock giving HHH the People's Elbow for the WWF Championship. If there had to be one of the best title changes in the WWF Championship's history, The Rock winning it from Triple H at Backlash has got to be the best one! It was a great victory having Austin and Rock drinking beer for this victory. This should have been the finish and main event to Wrestlemania 16 and because this was booked after Wrestlemania is why it's forgotten. Go ahead and go see this match to see how good this match really is!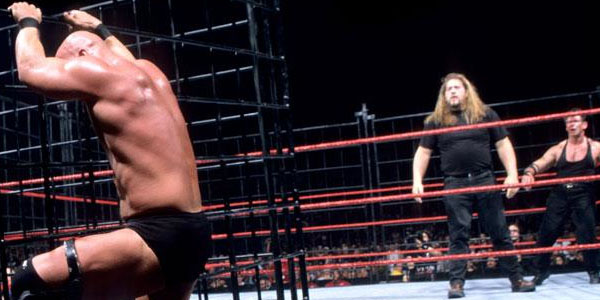 Number 6.  –  St. Valentine's Day Massacre: Stone Cold Steve Austin vs. Vince McMahon – Cage Match
No, this match didn't have any good in-ring work or any spectacular moves (which is why it didn't enter my Top 10 Wrestling Matches of the 1990s), but what this match had is one of the best build-up from a full year of great story telling and delivered with fantastic in-ring storytelling. That's what matters and the whole point of even watching wrestling in general (in-ring work secondary). Everyone knows how fantastic the rivalry between Austin and McMahon really was and there weren't a whole lot of matches with them together. This feud started all the way from 1997 and since then McMahon tries his damnedest to keep Austin down. Since he won the WWF Championship in Wrestlemania 14, McMahon and Austin's hatred with each other just went rampant. So many segments had each of them getting back at each other, they kept shooting each other non-stop, and so many schemes from both men were set to win over each other. For the longest time we just wanted these two face each one-on-one with a clear victory. After Vince McMahon won the 1999 Royal Rumble match, it was clear that we needed to have a match with just these two on the road to Wrestlemania 15. Even before the match even started it was began telling a fantastic story with Austin beating Vince out of the cage and threw Vince off the top of the cage to the announcer's table. Just when the medics were about to let Vince leave the building on a stretcher, Austin grabbed the mic and said the bell didn't ring so the match hasn't started. Instantly Austin grabbed Vince out of stretcher and sent him to the cage. Already Vince was hurting like hell, but each time Austin was about to leave the cage for the victory, Vince kept flipping the bird just to make sure he doesn't win the match, like he rather be beaten to death rather than having Austin win. As soon as Austin was about win, Big Show making his WWF debut to helped Vince beat Austin. Just when you though Vince was going to win the cage match, Big Show tossed Austin to the cage door and it open having Austin win with both feet on the ringside floor. I love the Attitude era so much for making so many creative and unpredictable finishes and this one here is one of the best ones because it's Vince's biggest humiliation and Austin's biggest victory. Though the rivalry continued after this match, I consider this a highlight of the whole feud.
Number 5.  –  Edge & Christian vs. Hardy Boys vs. Dudley Boys –  Triangle Ladder Match, TLC (SummerSlam 2000), TLC 2 (Wrestlemania X7)
If rivalries were to have the right amount of rematches, it would have to be a trilogy of matches. It's amazing that the tag team division was able to deliver one of the best trilogy matches ever and what's even more amazing is that they were all rookies in the WWF!  For a debut Wrestlemania match for all three of these tag teams, and see them gave us their all shows how awesome this match really was. At first we were looking into this match like a ladder match with a lot of wrestlers involved, but suddenly because of the Dudley Boyz (may favorite tag team) being so obsessed with tables and hardcore wrestling, this all of the sudden turned out to be a Tables, Ladders, and Chairs match.  I kid you not that way they used the ladders and then suddenly turned out to be more hardcore when the tables and chairs got involved.  I remember Edge took a diving spear on Jeff Hardy from the ladder, Buh-buh Ray gave Christian a cutter from the ladder, Matt Hardy power bombed to the table and the Swanton Bomb from that Jeff Hard did just to take the Buh-Buh Ray away. The finish of this match was some of the most epic moments ever as Jeff sacrificed his body to land on Buh-Buh out of the ring through the table. Edge & Christian were the last ones left facing D-Von and Matt Hardy as they raced to grab the tag team championships. The survivors were emotional just to win this carnage. As Matt and Christian were fighting each other on top of the table held by two ladders, Edge came to the rescue and pushed Matt off to the table below and won the tag team championships. What a beautiful finish to a match to a bunch of small stars that all became big names after the match.  All three of these tag teams has gone through a lot just to have a Wrestlemania match like this one and because of their fantastic display of wrestling, this has made the tag team division so important!
We were absolutely amazed that these 6 rookies could do so much at Wrestlemania 16, so they had a rematch with the same teams calling it Tables, Ladders, and Chairs at Summerslam 2000!  The match had a lot of moments where guys are falling off ladders, taking chair shots or going through tables making you say "ouch" with everyone. Bubba's full nelson bomb on Christian off the ladder was a sick spot early on. Then there was Jeff Hardy getting shoved off the ladder by Edge, only to land on a prone ladder that ended up slingshotting into Matt's face while he was on the ground. There were parts of the match where Edge was creaming the Dudleys with really stiff chairshots (those aren't even allowed today), but they barely get a reaction because it seems like nothing compared to the Hardy's legdrops off the ladder or Christian getting tossed off the top landing on Edge while he is sandwiched in between a ladder. Towards the end, Bubba climbed the "20 foot ladder" in the middle only to be shoved off over the top rope all the way to the stacked tables on the floor. So then Matt gets to climb, but D'Von pushes the ladder back backwards into some tables on the other side of the ring in another sick landing. The finish came when E& C knocked down Jeff Hardy while he was hanging from the titles, unable to pull them down and the champs made the climb to retain after 19 minutes of pain. That one was really dangerous. There were plenty of title matches and great moments between these teams over the course of a couple years, but this match is always going to stand out in my mind as one of their best moments.
Then the three of the teams had their last battle with the 6 of them together at Wrestlemania 17. This match between Edge and Christian, Dudleys, and Hardies is not only better than their previous Wrestlemania match, but perhaps one of the best ladder matches that the WWE has ever delivered. It's crazy to see all six men risking everything [again] in the same style of match-up, but do it much more radically! Everything seen from previous matches is doubled here in this match. You want to see Jeff Hardy take a top ladder leap, you have twice of those! You want Buh-buh Ray power bomb through tables, you got twice of the amount! You even want a better spear by Edge done in this match, you certainly got yourself the best spear in wrestling. You get the picture! This match saw many different risks that were taken and when Edge hit Jeff Hardy, who was hanging mid-air from the belts, with a spear, it became one of the most jaw-dropping moments ever in the history of Wrestlemania. Just when you thought it wasn't enough Spike, Rhyno, and Lita came done for interference to save the team they're routing for, only to as well get involved with the collision everyone's taking in this match. Because this match was filled with so many risk-taking things, it is obviously seen as one of the most hardcore/extreme matches the WWE has ever put on. If Wrestlemania 17 really was the end of the Attitude Era (which certainly isn't) they certainly left us one hell of an impression of everything appealing and exciting about this era of wrestling into one singular wrestling match. What's amazing is that Edge and Christian won all this trilogy of matches  and it embodies why it takes to win a ladder match!
Number 4.  –  Royal Rumble 1999:
The Rock vs. Mankind: I Quit Match
Heading into January of 1999 and the Royal Rumble pay-per-view, The Rock was on top of the world. For the first time since debuting a little over two years earlier, it appeared as though the third-generation Superstar was living up to his potential. It was perfect for the I quit match stipulation given to the fiercest rivalry in the Attitude Era: Mankind & The Rock. Since The Rock screwed Mankind at Survivor Series for the WWF Championship, these two had so many great matches together pushing The Rock to fame and changing babyface Mankind into a lovable hardcore individual that can't be easily defeated without seriously damaging him. With that in mind, The Rock would have to show a different side of himself. He would have to wrestle Mankind's type of match. This is the best "I Quit" match of all time where the Rock evolved from a cocky and arrogant heel to a performer who could be as vicious and cold-hearted as any on the roster. These two beat each other like no other wrestler in the roster at the time. Weapons were smashes, Mankind fell on the power generator that caused a black out, The Rock sang on the microphone… everything about this match was so much fun!  After nearly 20 minutes of slamming one another into just about anything and everything but the inside of the ring, a handcuffed Mankind passed out on the entrance ramp. The Rock, taunting, the fans and his opponent just to create even more drama in the storytelling of the match. Foley was an absolute punching bag in the match and may have taken more offense here than any other match. As The Rock  bash his head in with twelve consecutive steel chair shots while handcuffed, making even the most hardcore wrestling fan cringe, it became apparent that The Rock was capable of playing the ruthless S.O.B. when necessary. I've never known how to feel about the unique ending to this match.  A sound clip of Foley saying "I Quit" was played by the Corporation while The Rock held the microphone to the lips of an unconscious Mankind. The funny part was Mick Foley never said the words "I Quit" it was played through audio recording just to give The Rock the victory.  The Rock would win the match via less-than-honest means, but the result was not what mattered. The match, in one night, established two characters in just the manner WWF needed. The Rock was the cocky-yet-sadistic asshole—Mankind was the never-say-die, loveable babyface that never really figured out when to stay down. It was a contrast of styles, a contrast of characters and it made for one of the most memorable matches in the Attitude Era, one that was immortalized in the documentary Beyond the Mat.
Number 3.  –  Raw 7/22/97/Royal Rumble 2000/No Way Out 2000 Cactus Jack vs. Triple H
Like I said in the number 4 pick, if rivalries were to have the right amount of rematches, it would have to be a trilogy of matches. None could have been a better trilogy match than Cactus Jack and Triple H. Sure Mankind had his fair amount of battles with Triple H, but when Mick Foley changes his alter ego to Cactus Jack, he certainly puts Triple H to the limits. It all started when Triple H (with Chyna at ringside) was scheduled to wrestle Dude Love, but Dude Love made a quick interview with Mankind, together on screen mind you, telling each other that neither of them could damage Hunter as the other Mick Foley alter ego. Then finally all on the same screen, Cactus Jack made his debut on WWF television and gave Triple H an ECW style brawl. Their first match together is one of the best matches on free television and a historic episode of Raw history. Jack used all of his signature stunts seen from WCW and ECW right here on television like diving elbow off the ring, use every object as a weapon, and so many more. Before when Triple H was called Hunter Hearst Helmsley, many of his matches were boring as hell, that was until Cactus Jack gave Triple H that aggressive edge in this match that definitely changed the direction of his career. The match gotten so crazy that he even knocked out Chyna and piledriven Helmsley through the table on the ramp for the 3 count victory. What a way to bring back an abandoned character in wrestling and surprised all of his long time fans.
I must admit, Triple H wasn't in his prime in their first match together and the match could have done more to be legendary. Thankfully, the writers and bookers remembers how great Cactus Jack and Triple H's match on Raw was so they had to perfect it. At the time when they had their rematch, Triple H married Stephanie McMahon and owned the WWF in the McMahon-Helmsley Era putting all wrestlers like The Rock and Mankind down. Triple H was unstoppable until Mick Foley brought back Hunter's worst nightmare back to haunt him. Once more, Cactus Jack's return got fans to see this rematch at Royal Rumble 2000. It was certainly better than their original match together where brutal fight between HHH & Jack were more balanced and violent. This time around, it was just these two one-on-one (no Chyna involved) and they had to do everything to keep each other down. It would take a lot more for Cactus to go down that easily where they've We got one of the classic matches of the last decade, with a level of brutality rarely seen in a WWF ring. It cemented Hunter as a real star, and gave Foley one hell of a final great match to go out on (at the time). Foley brought out the barbed wire baseball bat, mallets, steel chairs, and more. Triple H may have been out of his element compared to the sadistic Cactus Jack, but it never takes the "Cerebral Assassin" long to adapt. Triple H, while bloodied, managed to stay in control as the match entered it's final moments. He back -dropped Foley on the very tacks he poured in the ring then delivered the Pedigree, but to his shock Cactus Jack was not finished. He kicked out at two! Jack got up and charged "The Game" again, but got kicked in the gut and ate another Pedigree for the finish.
It was completely barbaric to see a stunt happen like that but yet, the rivalry finally ended at Now Way Out 2000 in a Hell in a Cell match. I have to say not only was this my favorite match in the whole Cactus Jack vs. Triple H trilogy, but this is my favorite Hell in a Cell match ever. I know a lot of people considers Mick Foley's Hell in a Cell match with Undertaker-Mankind iconic, but the HHH-Cactus Jack Hell in a Cell match went non-stop and it certainly topped Mankind's Hell in a Cell match.  The two would fight with everything from steel chairs to a flaming 2×4 wrapped in barbed wire from in, out, and on top of the Hell in a Cell. After breaking through the cell wall, the two men carried their fight to the top of the cell. Once more, Cactus Jack feel off the Cell and landed on the table. Though it wasn't as iconic as his drop from Undertaker in '98, Cactus just didn't waste time and got back up on the top of the Cell. Jack attempted a piledriver, but Triple H reversed it sending him through the cell roof to the ring below, where the ring would buckle. A pedigree to Jack immediately after gave Triple H the win and ended Foley's career (and NO Mick Foley's Fatal Four Way match at Wrestlemania 2000 never existed!) There have been a lot of rivalries over the years that was over dramatic, but none displayed the amount of hatred with each other than three of these matches. I can go back and watch these trilogy of matches just to see how they both evolved as wrestlers and barbaric fighters. This was a way to start the new millennium for wrestling which unfortunately never got better than this. 
Number 2.  –  Wrestlemania 13:  Bret Hart vs. Stone Cold Steve Austin Submission Match
Let's make this loud and clear, [the Attitude Era began when Stone Cold Steve Austin made his first swear after winning King of the Ring 1996], not when Vince announced it on an episode of Raw on Dec. 15, 1997. Since then, wrestlers were able to make their matches physical and more violent (and perverted) than ever before. It was time for the WWF to change in order to survive from losing to WCW. The only wrestler that couldn't stand many of the changes happening to the WWF was Bret Hart. It is crazy to see Stone Cold playing as a heel somehow catching everyone's attention and cheer for him, while the traditional babyface like Bret Hart are getting despised for not being as awesome.  Though Bret was sorrow for losing to Shawn Michaels in the Iron Man match at Wrestlemania 12, he has redeemed himself by putting on a much better Wrestlemania match with his best rival Stone Cold Steve Austin.  Now if you want to talk bloody matches, here's one for you. It would be on this night that Austin would truly become "Stone Cold" and begin his march to the top of the WWF. This match would be one much different than their Survivor Series battle. In the fact this was less of a wrestling match and more of a street fight. Bret Hart came in as the face and Stone Cold was the heel, but after this match, which Bret Hart was declared the winner, their roles switched and made Stone Cold Steve Austin the star that he is today. This match was filled with the use of outside objects used to ram each other and Austin was cut open and bleeding from his head like a stuffed pig. This match was certainly not Hart's specialty, but you wouldn't know it by watching the match. "The Hitman" was just as ruthless and cold as Austin on this night, eventually leading to the unforgettable Shapshooter that would leave "Stone Cold" unconscious and bloody in the middle of the ring.  Although Austin never said the words "I quit," he passed out from the pain and loss of blood, so referee Ken Shamrock declared Hart the winner. Austin may not have won the match, but his performance made him the new top guy in the company. Everyone respected Austin passing out in the puddle of his own blood rather than giving up. This match sparked the 'Attitude Era' and was the birth of Stone Cold Steve Austin as the face of the company. I still regard this as one of the best wrestling matches I've ever seen. If there's one wish that I would love to see come true is if Bret Hart stayed with the company longer to make many more memorably moments in the Attitude Era.  But whatever the case, this is the one match that certainly opened door to this beloved era of wrestling and since then we honor this match for allowing the WWF giving its fans many more like this one many years to come!
This was the very first Hell in a Cell match in the WWF and it still is my personal favorite match that the promotion has has delivered, not just Hell in a Cell. At Bad Blood in 1997, Shawn Michaels and Undertaker faced off for the chance to battle Bret Hart at Survivor Series for the WWF Championship. Before we had that infamous screwjob in that Pay Per View, we were given a taste of what would the WWF be heading to in the Attitude Era. Undertaker was quick to bring the fight to Michaels during the beginning of the match with Michaels mostly unable to mount an offense of his own. Taker was so brutal and unforgiving that he even woke up from a Sweet Chin Music-Super Kick from Michaels and brought the match outside of the cage. At one point in the match, both men were fighting on top of the cell and Michaels was knocked off. With Michaels dangling helplessly, Taker stomped on his fingers forcing him to let go and fall through the spanish announce table. To my surprise, he fell off from the cage to the table a year earlier than the Mankind incident in King of the Ring '98 in the same match-type from the same opponent. Some of you are wondering why I didn't put the Mankind vs. Undertaker match in the list of the greatest matches of the 1990s. Well, I have full respect to that historic event, but the
match was too real and when there's no wrestling going on, it simply tested my patients. And let's not mention that, just like that match, every Hell in a Cell match up is trying to one-up against Hell in a Cell '97; fight on top of the cell, the big bump to the announcer's table, and tremendous shock value throughout. The match between Michaels and Taker was so much better and more real than that other Hell in a Cell match. In fact, this match was so damn real that when Shawn Michaels was dripping blood from the top of the cage to the camera man who was below them had Michaels's drops of blood landing on him and he shouted "Ah shit!" And let's not forget the every first bump from the top of the cell that every Hell in the Cell match after it tries to one-up, but at the end, end up just imitating.  This match is one that's still fun to watch over and over again, and it's never boring. Once the two made it back into the ring, Taker was ready to put Michaels away… until the debuting Kane hit Taker with a Tombstone Piledriver, ultimately handing the win to Michaels. That debut of Kane was some of the most exciting, surprising, and epic debuts that any professional wrestler has ever had! And who can ever forget Vince McMahon on commentary making the revolutionary qoute,
"That's gotta be… That's gotta be… That's gotta be Kane! That's gotta be Kane!" It was the biggest turning point that I've ever see in in a wresting match but it was one hell of an impression! I'm not one who likes interference in any sport, but this here is a BIG exception because Kane was nowhere to be seen, but Paul Bearer (Undertaker's former manager) kept building up and hinting that Undertaker burned his brother for dead only to announce that he's still alive. And even the outfit and props certainly made his presence look so menacing that he's worth keeping in the WWE roster to this very day. No longer was Undertaker the most intimidating figure of all of wrestling, but also made Kane a run for his money in terms of being a big highlight. So what makes this Hell in a Cell match better than any cage stipulation in the whole industry? How about doing all of these innovative things that ended up being the standard or even the ultimate measuring stick for every blood-sport caging up their contenders? This still is the best Hell in a Cell match that I've ever seen and that's all thanks to the non-stop action that kept going throughout! If I could pick one match that I like to present to the world that wrestling is a hobby worth anyone's time, I can't think of a more exciting event in the sport's history than the first ever Hell in a Cell match.
Related Articles