For a while I used to consider Grunge a genre, but now I'm like everybody else who just considers it alternative rock. So why make a list of a term that I don't believe is a genre? Rather, I consider this a musical movement that paved the way for alternative rock to finally reach to the mainstream, which college rock (1980's alternative rock) has never succeeded. This was a new wave of music that really destroyed the hair bands throughout the 1980s decade. The moment we listened to or watch the music video of Smells Like Teen Spirit… BAM! The whole industry changed. This hard rock wave that came from Seattle, Washington got the whole world buzzing. Nirvana's Nevermind started a new era that gave the 1990s it's own identity, for better or worse. Just like thrash metal, grunge had the big four bands with Nirvana, Pearl Jam, Soundgarden, and Alice in Chains that got the world's attention and reached high on the billboard charts. Grunge was one of the many musical innovations that the 1990s is most known for. It's funny that we think of grunge whenever we discuss about music in the 1990s, but it really as a short-lived era of music that was only successful in the early 1990s. The moment when Kurt Cobain shot himself was when this era of music started to fade from popularity, only to be taken over by britpop, boy bands, electronic music, and other alternative rock bands (who weren't' associated with grunge) for the rest of the 1990s. At last, here we are to celebrate ten of the best bands of this alternative rock movement that changed the face of mainstream music.
Number 10.  –  Mother Love Bone
Andrew Wood was really one of those personalities that you'll meet once in a life time and never see again. Unlike Kurt who didn't want any success, Andrew lived the grunge philosophy like he a party. Before the band released their first album, Andrew died from overdose, making it one of the bigs what if questions if he could have been as big as the rest of the grunge bands. You can see their one and only album Apple and see how much potential and how much better it sounded than many of their grunge contemporaries. It's just unfortunate that they've ended up being at the bottom of the list because of what Andy and the boys could have done. But even though this band is incredibly short-lived, Andrew Wood's legacy carried on instead of being in vane to pave way to Pearl Jam to exist. In the months following Wood's death, Gossard and Ament, would be approached by Soundgarden frontman Chris Cornell (who had been Wood's roommate), and asked if they would be interested in recording a single containing two songs he had written in tribute to Wood. The project turned into an entire album and the group took the name Temple of the Dog, a reference to a line in the lyrics of the Mother Love Bone song, "Man of Golden Words. That's how much Andrew Wood meant to the grunge world, if he was really that talented that talent went to waste. Temple of Dog is a fantastic tribute to Andy because he really was rock n' roll's biggest 'what-if' rock stars of all time! Go ahead and pick up Apple and see one of the best debut albums of all time!
Number 9.  –  L7
Here, we should remember that there were ladies who were part of the grunge movement. It's either we choose the mediocre Hole, or Seven Year Bitch, but I rather choose L7. Why? Because their discography that they've left behind are so fun to look back at. They were 100% raw female power that showed that young females of the 1990s. I will always remember Pretend We're Dead as one of the catchiest tunes of the early-90s and just has that sweet punk rock attitude that we've been waiting for since the 1970s. Not only that, but these ladies where able to define the grunge philosophy in many dynamics. They were able to showcase a new element of raw edge to it that made them look like they have more balls than many of the men in the grunge scene.
 Number 8.  –  Stone Temple Pilots
STP was really one of those bands that broke the stereotype that grunge is exclusively for Seattle bands, being from San Diego. Their first two albums were purely grunge-like, alternative metal, but after the grunge movement went out of the way they've decided to be generic 90's rock. But of course, their peak of their career was when they jumped to the grunge scene because they were almost like Pearl Jam mixed with Soundgarden's heavy riffs. They knew what they were doing in making both really heavy rock music and also making magical road-trip songs like Plush. There's still a good reason why Core remains their most successful album; they've understood the philosophy of this side of alternative rock and just blended well with the big four. Core is definitely their landmark album, but I say their follow-up Purple was even better.  Imagine if there were more songs like Plush but managed to keep the right amount of songs that fit in the alternative metal category and you got yourself a real treat. It's just unfortunate that after those two first albums, they just didn't care for this musical movement no more and made them sound like country rock a little, similar to Creed and Nickleback. It almost feel like they used the grunge popularity to get to the top so easily, but what a way to make an impression to fit in this short-lived era of music.
Number 7.  –  Screaming Trees
Here's one of the longer running grunge band, who's sound incorporated hard rock and psychedelic elements. These dudes were considered as the "Godfathers of Grunge." Though we like to think about the big four bands of grunge, Screaming Trees can be looked as a fifth, if there is ever one. Described as alternative rock, neo-psychedelic, grunge and punk, the Screaming Trees did come on the music map at the appropriate time, however despite their critical acclaim, they never received half as much attention as other grunge acts like Nirvana, Pearl Jam or Soundgarden. Thus, it's no surprise that today these bands remain popular and well-known in the public eye, whereas the Screaming Trees seem to ring no bells in the ears of music fans. Many of the artists from the Seattle-grunge scene seemed to interweave their musical efforts. For example, lead singer Mark Lanegan had support from Krist Novoselic and Kurt Cobain of Nirvana while recording his first solo album in 1990; Chris Cornell of Soundgarden helped produce the Screaming Trees debut album on Epic Records in 1991; Martin and Lanegan both contributed to Layne Staley's (Alice in Chains) and Mike McCready's (Pearl Jam) side project, Mad Season, in 1994-1995. With all of these overlapping side projects and promising musical endeavors, Screaming Trees still could not achieve mainstream success; however their talent cannot be denied. The hit "Nearly Lost You" off of 1992's Sweet Oblivion was also featured on the 1992 soundtrack toSingles, while "All I Know" off of 1996's Dust did receive radio airplay. Lanegan's uniquely raspy voice was never lacking, while every album the band produced contained inventive hooks and lyrics that demanded attention. The band could rock as hard as anyone in their musical genre and beyond, while still creating soft-spoken ballads that anyone could relate to. Despite the band's break-up, members have continued to press on musically, especially former lead singer Lanegan, who has since created numerous solo albums and has worked with bands like Queens of the Stone Age, The Gutter Twins and Soulsavers. Lanegan himself has been such a versatile element in the 90s music machine, I'm astounded when he doesn't get more credit.
Number 6.  –  Mudhoney
These guys were Nirvana (style-wise) before Nirvana even released their first album. It was either I put Mudhoney or Green River on the list, but Green River only released one album and a bunch of EP's and Mudhoney released so many albums that it's worth experiencing them all. These guys were the roots of grunge that bores the trees that we know today. Though Pearl Jam, Soundgard, &  Alice in Chains sounds nothing like Nirvana, Mudhoney is the closest ones to sound just like them! But the appeal of mud honey is not just because of the similarities of Nirvana, it's their buzz-like guitar riffs and hard-edge song writing that made them so punk rock! Just listen to how they play and you can have some fun that other bands can't help themselves but take its influence. And even when Grunge died out of popularity, they still celebrated this dead movement in music and that's what I appreciate most about the band more so than the ones below the list. The had the whole attitude that that showed that they didn't care what you think, they just came to have fun. Ironic don't you think that seeing people fun can be educational in a sort of way.
Number 5.  –  Pearl Jam
Interesting to see that Pearl Jam was formed because Andrew Wood died from drugs, the rest of the members of Mother Love Bone still wanted to be successful. Enter Eddie Vedder who reached commercial success as Pearl Jam. This band is clearly magical within their alternative rock songs. Out of all the grunge bands, Pearl Jam is the most unique because they cater more to the jam band side instead of the heavy metal side that every other grunge band seem to take influence of. Pearl Jam is important because Vedder introduced deep vocals that post-grunge bands tried to emulate but fails to replicate (i.e. Creed & Nickleback). If you didn't get into Nevermind's wild songwriting because it seemed stupid to you, well Pearl Jam's Ten should definitely get you on your toes and sing along. Pearl Jam is to the 90s and 2000s what Boston was to the 1970s and 80s.  They're the band that white people who aren't that interested in rock music refer to when asked to name their favorite band. Because they're safe. All the things Rock n Roll should not be… and yet they're so good at what they're known for! Not quite metal or punk but harder than your typical pop/rock band. It's a style that was take by influence by bands like Creed, Nickleback, and Stone Temple Pilots, and you know what? Even if Pearl Jam lost their grunge philosophy, they're way better than their country-rock rip-offs!
Number 4.  –  Alice in Chains
One reason why I can't consider grunge a "genre" per say because even though Alice in Chains had the grunge philosophy that they've picked up in Seattle with the rest of the grunge bands, they were more metal than anything else. But either way, they definitely belong in the top 3 best grunge bands of all time. Their song writing is very personal, dark, and relatable. Layne Staley had a lot of demons and he wasn't afraid to make excellent songs inspired by his torment. It's nice to see a very dark band like Alice in Chains to represent the dark side & tone from that Seattle area. Just because they were heavier, doesn't mean they disassociate from that scene completely. Albums such as Man in the Box, Angry Chair, Would?, Grind, Dam That River, Them Bones, and many more were really near perfect songs! And even without Layne Staley around as the lead singer, Alice in Chains still have yet to make a bad album! Between Layne Staleys haunting vocals and Jerry Cantrells amazing guitar riffs Alice in Chains is by far the best band on the planet. This is music with meaning, feelings, and soul. It's about real life, and real struggles and has touched so many peoples lives. Compared to the other grunge bands that has their reunion, Alice in Chains had their best comeback of any band I can think of. Even when Layne Staley is replaced by William DuVall, they've managed to to still sound just as good as the early days by releasing two wonderful alternative rock albums – Black Gives Way to Blue and The Devil Put Dinosaurs Here! It's truly a team effort, with or without Layne Staley in the band. This music has stayed with many of us for over 20 years and will be with me until my last day on this earth. It never gets old and it always reaches down deep into my soul and moves me like no other music is capable of.
Number 3.  –  Nirvana
It's funny that Kurt Cobain never wanted to be a superstar and his popularity drove him to commit suicide, but he never realized how much his music meant to all of us. We see Nirvana as innovators because we never checked out their influences such as Pixies, Melvins, Sonic Youth and the rest of the Seattle grunge bands before Nirvana came to be. But never mind (no pun intended) the influences he took to form the band's identity, they were the right influences that created fantastic songs. Part of their appeal is that their song is so damn catchy that they're almost like lullabies disguising themselves as hard rock songs. For decades many (if not all) of their songs still maintained their star power and we still sing along to it, as if we can't grow out of it. Sure anyone can say Smells Like Teen Spirit is their favorite song because it got everyone's attention, but what about their others songs from Lithium, All Apologies, Pennyroyal Tea, Sliver, About A Girl, Sappy, Serve the Servants, Scentless Apprentice, Aneurysm, Drain to You, On A Plain, and You Know You're Right, that were actually better songs that are still overshadowed to this very day. Weather Kurt was screaming or singing gently, we all still listen to the old recordings he left behind. And still to this day, record companies and Courtney Love love to cash cow his already released albums/songs and pre-recordings to still make the band relevant and find out more about the band. We still buy into anything that has Nirvana on it because we miss this band. No other band can ever replicate the success and appeal that these three guys once had. Part of us missing them so much is that we still don't have rockstars that are a big or as long lasting after their era; since then bands just came and went and Nirvana (even after their disbanding) still prevails. Disagree all you want, but it's very true! The 2000s decade didn't have their own "Beatles" and still to this day our most popular artists replaced rockstars to rappers. It's a bold statement, but Nirvana (along with our four grunge bands) were our last big name rock bands before rock music's no longer became the most popular music. But it's not only just the popularity, but Nirvana was completely fun, passionate, and spiritual that it hurts to not had them around. They know how to put on a live performance, even without even trying, we still find it so enjoyable & memorable that it is historic! No other band in the history of music is able to play bad as they wanted to and still be loved. It's part of the reason why they're hated by many other the years, but if we're still talking about Nirvana (whether you like them or not) should tell you how significant they are to not only grunge, but music in general. They are definitely my favorite band before my time and they're the big reason why I wished I was born earlier to experience all the things they left behind. Who knows if they were around longer they would have released a bad album or have other problems with the band, but in any case, what they've left in the music world is truly special. It's everything that was good from their influences mixed into a fantastic grunge experience that many of us will never forget!
Number 2.  –  Soundgarden
I'll admit, a lot of Grunge bands had really mediocre vocals.  Even Kurt Cobain and Layne Stanley sound like dying crows live, but Chris Cornell's voice is so melodic and bluesy that made it a real rock band out of the grunge genre. Even though Cornell's soulful voice is the band's main appeal, big reason why they earn the number 2 spot is because they were one of the few grunge acts that began the Seattle scene the movement is most known for. In fact, they're the longest lived band that came out of the movement and not a single bad album out of their discography. Starting out as an underground band that looked like they were going to be obscure in their early years, but as they kept making albums from Badmotorfinger to Superunknown, they blast-off to stardom. I have full respect for bands that began with nothing and worked their way towards to mainstream success. Soundgarden is definitely more hard rock than grunge but their grunge philosophy earned them to be in the big four grunge bands, also carrying the tradition of the basic rockstar philosophy of sex, drugs, and rock n' roll. The riffs that they pulled and even the songwriting is top-notch! There's nothing really deep within their song writing, instead it's all plain fun! Whenever you hear Cornell sings his soul out it really feels like true rock songwriting being played before you. Not just that, but Soundgarden has a very fantastic discography that many other bands would envy. Let's not forget that this band was around since 1984 so they really are the longest lived grunge bands, and not only that, they also reach commercial success while the rest of their contemporary bands associated with them still were stuck in the underground stage where they started. Though the Soundgarden's comeback was short-lived, their final album, King Animal, was a major treat for all those long await fans. Just re-listening to that album felt like they've never changed and it was the best way they could have made their final album. As much as I miss Kurt Cobain as the next guy, I miss Chris Cornell even more.  He had a real talent that we rarely see anymore. For me, hearing his suicide on May 18, 2017 completely broke my heart. For it to be the closure of the band, at least it ended with a huge bang that we all wanted on the Soundgarden label. Cornell may have wanted to be an all time best, but I can say that he was far more talented than Kurt Cobain wish he'd been.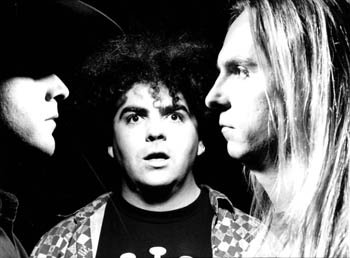 Number 1.  –  The Melvins
Why are The Melvins the best grunge band of all time? It's their influence! They were the innovators of the grunge philosophy and also the grunge waves that started this whole grunge movement! Where did Mudhoney, Nirvana, Soundgarden, Alice in Chains, and all the rest of the grunge bands get their sound? The Melvins of course! Never mind the fact that they're sludge metal/stoner rock, the structure of of songwriting and album concepts were all so influential that it screams grunge. Buzz Osborne is a musician filled with so many ideas of how to make songs about animals and LSD sound fresh without feeling over done. It's not just their importance to the existence of grunge, but it's their discography and creativity that makes them the best of their kind. There are points where they're really fuzzed out, hard to describe, and even complex at times when it sounds stupid. So does this whole grunge genre, so they basically know what they're doing! Still to this day, The Melvins keep my interest with the new albums they're releasing and it's surprising to see that they haven't' slowed out after 3 plus decades of doing what they do best; do whatever the fuck they want to do. It's really cool that after all of these years they didn't give a damn if the critics didn't care for them, they inspired rockers around their age to follow them. What surprises me the most is that they have yet to make an uninteresting album. All of them are so varied and diverse that you can't say any album they've made is different from one another. Buzz Osbourne is a genius when it comes to songwriting because it feels like it was written by different band members. Even to this day they still continue to make interesting albums and inspire many of us. Of course, they had their influences like Nirvana did, but Melvins have so much personality that it's great to see them around. Nothing stopped the Melvins, even when grunge died, they've continued evolving their sounds and continue to surprise their listeners. Hell, I was blown away that they've managed to out do their 1980 & 1990s material with (A) Senile Animal. What other grunge band alive today could even capitalize their glory days during the grunge era?  Funny that a lot of bands who were inspired by the Melvins could never last as long as they've could. Check out Melvin's discography and you too can be inspired to by a band as unique and creative as them!
Related Articles