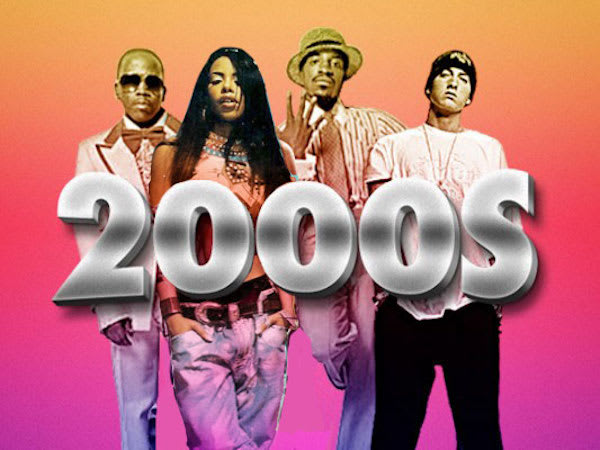 Technologically, evolution of music in the 2000s have been impressive where mp3 files changed the way we get our music and devices such as the iPod and cell phones were much easier to handle. But musically on the other hand… this decade was pretty bad. Music in the 2000s is a static and distasteful decade. Musically, the decade started out as a great, having left overs from the 1990s, but somewhere around 2002, music somehow stopped being as good as we hoped. Majority of pop music offered terrible genres such as emo, distasteful R&B and rap, pop, post-grunge movement, nu metal, and so many other music that ended up as a decade that we want to forget. Never have I seen a sufferable list of hits that made it on the number one charts and we have to thank the irresponsibility of many of these artists who created music that couldn't even age a year since its release. It's no wonder why so many stuck in the older times of music and never payed attention to the releases of 2000s. However, without the internet we wouldn't be able to discover indie music. Never has underground and independent bands ever had so much exposure that it made the mp3 files in our computers to become the standard. And it made it so much easier to list down the albums the we've missed out in the decade.

Top 10 Albums of 2000
Top 10 Albums of 2001
Top 10 Albums of 2002
Top 10 Albums of 2003
Top 10 Albums of 2004
Top 10 Albums of 2005
Top 10 Albums of 2006
Top 10 Albums of 2007
Top 10 Albums of 2008
Top 10 Albums of 2009
It was really scraping the barrel to find at least ten albums released in each year of the 2000s. Because a lot of people realizes that they weren't getting any satisfaction from mainstream music, there's no wonder why people became hipsters and supported so many indie bands that they weren't getting attention. But before the post-9/11 era started this terrible trend of music, the year 2000 was a start of a new decade and century. The days of the 1990s were no more, so new faces came in and tried to redefine their talents in songwriting. Again, 2002 was the year music stopped getting good and we would have to wait till 2007 till music got good again. After years of bad music, I can honestly say that 2007 had the best catalog of music coming out because that was when both indie and mainstream gave a crap in making wonderful tracks. You might be thinking that this person who made this list is an old fart bashing on this generation, but I assure you that I'm full blooded Generation Y and I still wish that my gen. could have their time of good music like 60s, 70s, 80s, and 90s. Even though 2009 left us in a bad note, at least the 2010s are looking up so we can just move on. It was a difficult time to rank down some of the best albums of the 2000s to remind myself that this decade wasn't at least all so terrible.

Number 10.  – Kid A – Radiohead
Something happened in the three years following OK Computer. The endless touring, the relentless media coverage, the invasive life of celebrity struck a nerve somewhere in the heart of the band. They went home to work in studio again but were stuck. On top of that, Thom Yorke had developed an immense distaste for rock, or any guitar-based music for that matter. He bought the Warp Records back catalogue and listened pretty much exclusively to electronica. Kid A is an album of remarkable beauty. Its haunting soundscapes are built on a foundation of ambient electronica, and it eschews typical chorus-based song structures and rock-and-roll dynamics in favour of compositions which build and evolve through waves of textures. There is a disturbing, dark quality to this album that underlies every track. To ears that'd had the second half the 1990s to ingest the rapid developments in electronic music, ears weary of the bankruptcy of post-Nirvana alternative rock, Kid A sounded like a next development in rock music that was both logical and surprising. Thoughts about millennial techno-dread; fragmentation, broken transmissions, garbled communication; the feeling of helplessness that comes from having access to so much information about the world while not having the power to change any of it; the subtle and dramatic ways that electronics are altering our landscape and our consciousness. And there's still something there, though in some ways it's all now more intense. Part of our brains moved online in the last 10 years, and this will continue; it's not a good or bad thing; it's just the way it is. Refracting these developments through the prism of Kid A, it still resonates, even if so much has changed since. Radiohead were not only among the first bands to figure out how to use the Internet, but to make their music sound like it, and they kicked off this ridiculously retro decade with the rare album that didn't seem retro. Kid A – with its gorgeously crafted electronics, sparkling production, and uneasy stance toward the technology it embraces completely– feels like the Big Album of the online age. Abstract yet poignant, Kid A is an album filled with contradiction fusing elements of acid, rock, folk, trance and house together to create a truly experimental and epic album.  The album at times goes from being simple to theatrical. In addition, the fact that Radiohead took the risk of committing commercial suicide just not to compromise their musical integrity makes this album a thing of legends.
                                            Similar Albums

Number 9.  –  Fleet Foxes – Fleet Foxes
It's difficult to make comparisons for Fleet Foxes, given the unique vocal talents of the group, but I certainly can see the Beach Boys or Cosby, Stills, & Nash comparisons that people often draw. And that's not a bad thing; Fleet Foxes are excellent vocalists that make great use of the different textures of musical instruments. I find that each song is really a composition rather than just a tune. Fleet Foxes can be loved by everyone. Your dad, your grandma, your dog. Fleet Foxes ubiquitous sound is a combination of classic rock, 50's vocal harmonies, classic country, modern folk, and a dash of pop. "Sun It Rises" begins with a folky harmony as an opener. By the end of the song Robin Pecknold is enveloped by ethereal voices as a guitar softly plucks. It's a moving moment and it happens all within the first song. The mood is broken by "White Winter Hymnal" with its mysterious lyrics and steady guitars. There is just such a variance between the songs that Fleet Foxes traverses with the skill of a band 10 times their age. Every song sounds like its own serious moment; it's hard to describe but the album doesn't feel like an album. Few artists strive to make derivative music.  It makes sense that music done before need not be continually reproduced.  A refrain similar to that can be heard many places over on RYM but in the case of the Foxes, that rule doesn't really apply.  Many reviewers say that this band relies too much on the voices of other bands, but I don't really see it.  I find the music to be both original & powerful enough. There are short and occasional moments in the Fleet Foxes' self-titled album that feel as if they are the very embodiment of perfection – the climax of Heard Them Stirring, or parts of the melancholic Blue Ridge Mountains. 'Fleet Foxes' is a rare album that utilizes harmony effectively so that every song feels like a part of a cohesive and rewarding whole. Some songs do seem flat and unchanging, and Robin Pecknold's voice does conflict too greatly with the music, possibly due to mixing, as heard in Tiger Mountain Peasant Song. But no matter what, it is an album that deserves to be heard – if you give it your undivided attention. 'Fleet Foxes' is an album that has clearly been meticulously crafted with great attention to detail. Within the songs lie so many short harmonies and brief segments within that it is a rewarding album to explore.
                                                               Similar Albums


Number 8.  –  Relationship of Command  – At The Drive-In
At the Drive-In spent the majority of the '90s honing their skills as young, mostly untrained musicians and wowing people with their unbridled passion during live performances, but reportedly, they had a difficult time capturing that same passion on studio albums. For their third (and final) album, Relationship of Command remains one of the most intense recording sessions ever pressed. Cedric Bixler's slightly strained, extremely expressive and emotive vocals not only leave a lasting impression, but they also spawned an entire generation of imitators who got close, but could never capture the rawness of Bixler's delivery. The vocals weren't the only source of intensity; we can also credit the dueling, interlocking guitars of Omar Rodriguez and Jim Ward, doubled on top of each other to either deliver beautifully melodic atmospherics and crunchy, punkish aggression. Relationship of Command does sound like a band being pulled in two different directions—you can hear the mature, Latin-influenced passages and the moments of dub experimentalism. You can also hear the boyish skater punks come through with the pop punk on songs like "One-Armed Scissor" and "Pattern Against User."  At the Drive-In had just the right amount of appeal and mainstream success to be The Chosen Ones to inspire the countless third-wave emo bands of the 2000s. Let's not undermine the unbelievable talent and power Relationship of Command unleashes—the album was recognized for a reason. Musically, it's stunning—every single track is just as intense, relentless, and creative as the one before it. Lyrically, the songs are obtuse, but during this era, when you only had Blink-182 writing lyrics about toilet humor, Bixler's Lynchian, stream-of-consciousness writing was amazingly refreshing. Thematically, the album deals with darker subjects—from kidnappings (Enfilade), to disappearances of countless women in Mexico (the highly-emotional Invalid Litter Dept), to hypocrisy in government Sleepwalk Capsules), to Jeffrey Dahmer (Arcarsenal). The lyrics and passionate screams fill you with such an inexplicable fire that you don't know what to do with yourself. You want to scream, you want to tear out your hair—you end up questioning your very existence.
                                             Similar Albums
  
Number 7.  –  Songs for the Deaf – Queens of the Stone Age
Here's the secret recipe of how QOTSA's formula; make songs that's hard enough for the guys, but sweet enough for the girls so that everyone can have a nice time with their music. Queens of the Stone Age is currently the only Hard Rock band that doesn't go over the top like every other Metal Bands screaming into your ears trying their best to you're your world, but remained that classic feel of laidback rock-star status and song writing that I find lacking in rock music today. Throughout the 2000's Queens of the Stone Age never once made an album that disappoints, but I have to choose their best for this pick and why is "Songs For The Deaf" that pick? Because it's an extremely rare occurrence that one album will completely vaporize your concept of cool. This goliathan rhythmic melting-pot is the Rock equivalent of a trip out to the desert under a full moon with a lot of firepower, high-powered narcotics, great friends and a muscle car with a big-ass engine. t's equal parts danger, mystery, fun and a mind-blowing collection of talent providing a massive dose of steroids to the Queens sound. The result was something we'd been waiting for, whether we knew it or not; that first sign of a next evolutionary step in Rock music, like the "Appetite for Destruction" by Guns n' Roses and "Nevermind" by Nirvana that came before it. This very album delivered a bracing jolt that fused punk and hard rock sensibilities with an artful sense of eclecticism and that aggressive paste that didn't feel pretentious or generic. Like other Stoner Rock band, Queens of the Stone Age was not afraid to admit where they got their inspiration; sex and drugs. But in order for Queens to ever be this good again is to get Nick Oliveri back in the band and Josh Hommes to get over himself. But regardless, NEVER listen to this while driving if you want to stay under the speed limit; the fast pasted nature of this album will encourage you to move as faster than the music.
                                             Similar Albums

Number 6.  –  Untrue – Burial
Just when you thought that there would never be another album like DJ Shadow's "Endtroducing…" along came one of the most atmospheric albums of all time. We as listeners listen to music for different reasons, and many of the majority say that they listen to the music for emotion. Sad driven albums can either make or break an album, and it all depends how the artist handle the limitations he/she has. If you're looking for emotion, then why have you missed this album out? Its atmosphere is so magical that it has indescribable meaning to it while listening. It takes some of the best sampling to create such as stupendous work of music in ways I've never imagined. It flows like an original movie score, but Untrue remains faceless and largely anonymous, yet also acutely personal and introspective. You can just simply listen to this album on a rainy day and imagine someone in the world is in pain and you could just cry with them because it took you, as a listener.  Burial doesn't take music as simply music but as an emotion, as sound. Not heavy nor intense sound. That sound that is made only for touching your heart and emulating emotions at any moment. Only music so esthetically beautiful could move you like this. And it was so unique and revolutionary in its epoch. The concept of taking the human voice and to stretch it so far as making it ghostly and body-less has already been invented but his own take is mindblowing. I already spent too much time reading about him, everything I could find and I understood that (in my sense) he represented music at its most important, the notion of music being emotional and no one else could make it better. Every time I listen to Untrue I'm so amazed by his genius that I become speechless, seriously. I feel so much of his talent that I can't express it in words. Despite Untrue's immersive melancholy the album never becomes oppressive, Burial's moody, evocative sampling has an allure that always beckons the listener for one lonelier walk beneath its flickering streetlights.
                                             Similar Albums

Number 5.  –  College Drop Out – Kanye West
This is definitively a difficult one. On one hand, it's well known (if not sadly very true) that Kanye West isn't the greatest rapper alive. Hell he's not even close. On the other hand, we have to admit for a first outing, Kanye is one hell of a producer and one hell of a musician. Yes I know that the majority of his rhyme's aren't too complex but there really is something captivating about his music. Well you'd be batshit-retarded to think that Kanye West was going to put out poor beats and raps on his debut effort (where everyone would be making judgments on whether or not to take him seriously as a rapper). No, there are hilarious skits, catchy instrumentals, A-list-rapper guests and his Midwest rapping style (which the mainstream public isn't too familiar with if you look at the rap charts before Kanye showed up) that deals with subject matters of sexuality, conflicts, and spirituality. It's definitely all very listenable and at times very good even great. Kanye's first album expressed his deep views on race, politics, family and religion. Sure, he had a little fun too, but there was once a revolutionary brewing inside of Kanye that soon got lost in all the lights. Still, the College Dropout is one of the best albums ever — you can debate whether or not this is Kanye's best album, but you cannot doubt that he wanted to be the musical genius he claims to be today. While it may not seem like it, he's putting his soul on the line here and at the same time sounding relaxed as all hell. Before what would result in intense ego that even would break from the public news reports into his future albums, you had a young, talented producer who wanted nothing more than to be taken seriously as a rapper, and because of that motivation and the overall "new" feel of the album The College Dropout is anything but a flop. If anything, it's the best hip hop albums of the entire 2000s! It never gets boring or dull. The music is dynamic, the story is engaging, and Kanye sounds excited just to be living his dream. We were excited just to be living it along with him, on record.
                                             Similar Albums

Number 4.  –  Discovery – Daft Punk
Every song, every note, every beat, every instrument used, every songwriting, and every second just listening to Discovery was made perfectly and still remains unforgettable. Daft Punk made this album based on their childhood in the 70's & their personal relationship with that time of their lives. The theme really colors this album entirely; so colorful in fact that it makes their listeners to feel like kids. It took every popular music genre in the 70's and mixed it with modern electronic instrument to feel like a ride of a life time to appeal anyone's musical taste. All of their songs succeeded wildly, dissolving a decade-plus of dance music good taste. Anyone who's anyone has a favorite song in this album, but of course the obvious choices are One More Time, Harder, Better, Faster, Stronger, & Aerodynamic, When there's an album nowadays, I usually find myself thinking if only they could organized the songs better, used the solos more than they left off, or made some of the songs longer/shorter (especially some of the albums in this list), but in Discovery's case, there's no possibility of me thinking that I could make this album better than it is. Some say there's no such thing is perfect, but Discovery made perfection believable. The electronic music industry owes a lot for Discovery for bringing much more recognition to the electronic genre. This album is so inspirational that several other artists such as Kanye West, LCD Soundsystem, and more couldn't simply ignore them. This album was popular enough to get itself a movie, Interstella 5555, which purpose was show the visual realization of the album as a whole. Discovery's reputation as being the best of the decade is truly deserved. This is perhaps one of the most celebrated albums I've ever encountered and yet, I refuse to stop celebrating this brilliant piece of music. It's truly a type of music that is meant to celebrate in harmony and none does it better than Discovery!
                                            Similar Albums

Number 3.  –  xx – The xx
Some albums are best listened to in certain way. Whether it's seasons, settings or times. xx has that thoughtful, personal, introspective quality to it. It's amazing to think that this is their debut album, because it's so incredibly accomplished. When they made this, the xx were all in their early 20s, but it has a certain maturity to it. I can't even begin to think where they could possibly go from here. How on earth are they going to top this? This is about as good as debut albums get. Even if they don't ever do anything this good again, at least I'll always have this. I kept listening and listening, the more I listened, the more I fell in love with Romy Madley Croft & Oliver Sim sing together. The album has this intimacy to it, xx is like a window into the lives of two lovers. It's just so easy to connect to. Musically, it has this really moody, melancholy, subtle, understated, intimate beauty to it. It's almost haunting at times. The beats are fantastic, the guitar lines are great, the vocals are just orgasmic, the drum machine is gentle. xx is incredibly minimalistic, but brilliantly atmospheric and evocative. No one knew before the xx's self-titled debut that the silence laid between beats and spacey guitar could be used as a band's most potent, emotive instrument. For an album that's simplistic and spacy, it took a real talent to make it sound good rather than lazy. Ironically enough it given its listeners a big bang to end the 2000s decade as we've entered a new one.
                                            Similar Albums


Number 2.  –  Illinois – Sufjan Stevens
Throughout the entire 2000's if you were focusing on the current events, many of us, especially Americans, have been extremely paranoid about terrorism since 9/11 and was heavily into the subject of politics and terrorism. We still are today, but back then, everything was semiserious. Almost everywhere I turn there was nothing but negative liberal crap on TV, anti-Bush movement everywhere, anti-Iraq War debates/arguments. This is one of the more annoying aspects of the 2000s decade. Because of this we forgotten about the greatness about being in America and what's what Sufjan did. Sufjan Stevens was out to make an accomplishment by making 50 albums for each state of the United States of America. Hearing that, sounds very patriotic because if you know us Americans, many of us fight each other because of what state one is from. So far he released "Michigan" and "Illinois" and boy, his album "Illinois" already became a classic. What made "Illinois" so special and on the top of this list is that it was indeed a very VERY well crafted album that perfectly nails what Illinois should be remembered for, rather than mobs and Al Capone already given the state a bad reputation.
Stevens collected facts and anecdotes about the great state of Illinois, stringing them together in ambitious rhyme schemes and wrapping them in meticulous arrangements; from Chicago to Seer's Tower, he made anything historical or significant about Illinois in wonderful songs. It not only takes those locations seriously, but also made stories of those who lived in the state such as his friends, family, religion, and experiences living there. This is truly an emotional album where all the stories that Stevens shares in this album was wondrous & magical, but at times sad and emotional. It's quite rare to see such album to have a great story going on. Listening to this album from beginning to end felt like it was a Broadway Play. I can't imagine anything else when listening to Illinois but a stage play with each story that each song represents. You can just visualize actors going on stage singing and dancing to whatever the songs is playing and it executed perfectly because of its vast variety of moods! There are plenty of moments in this album that gets emotional, magical, powerful, joyful, romantic, and all kinds of emotions that fulfills the experience of such a great album. Even for some of the songs that have very weirdest titles ever, they were all references to many of the famous parts of Illinois like Superman (his origins), Casimir Pulaski Day, Christianity, ghost towns, and more. Never have I seen such brilliant lyrics in a large selection of songs in a single album. It's been a while since we've seen a great folk album and Sufjan Steven's "Illinois" should definitely be in the same league as to Don McLean's "American Pie" & Bob Dylan's "Highway 61 Revisted."This album had a huge impact on me and it always reminds me how good it is to be an American and appreciate my nationality as it is a blessing. I thank, Sufjan Stevens for showing patriotism in an oddly fashion of music, but yet his goal in one day making all 50 albums for every State in America would be the most patriotic thing an American musician can possibly do.
                                               Similar Albums

Number 1.  –  The Mantle – Agolloch
Death comes for us all. We will one day come to our death and no matter how hard we from escape it, there will be that one day that our time will come. It's normal for all of us to fear death because we really don't know if its truly our end or we might end up in the afterlife. Agalloch's "The Mantle" is unlike any album because it tackles the theme of the afterlife. This album is so amazing that saying that it puts you in its own atmosphere does not do it justice; rather it brings you to this new stratosphere of the hereafter that no other album can possibly do as well as The Mantle. And what's incredible about Agalloch is that they were able to do all of this with only limited instrument effects of black/doom metal and neofolk that redefined a new breed of the metal genre. Agalloch have always been a band that isn't afraid to experiment and mix many different styles of music in order to produce their own unique sound. Nowhere is this more apparent than on their sophomore album, The Mantle. After their extremely solid debut record, Pale Folklore, the band somehow managed to greatly advance and improve their sound, and produce what many people would say is their magnum opus. This album could easily be the soundtrack to a long, cold walk through the woods at night or a foggy day, as it is easily one of the most atmospheric albums I have ever heard, and I have frequently used this album as a soundtrack for long walks into the snowy wilderness. The production on this album is extremely clear, and the musicianship, while not particularly flashy, is extremely well done, and creates a very lonely and depressing tone. The vocals range from the traditional black metal style growls, to the dark and melancholy, and extremely haunting clean singing.
This is perfect songwriting within storytelling with two separate voices telling two different view points of the same story; like two characters in each of the songs. It's one of Haughm's trademark styles, but none is more apparent nor more powerful than The Mantle. Just how is it possible that an album could make you feel that spirits are watching you and you can feel like you're a wandering ghost stranded in a haunted cabin covered in this snow? As the album draw near to its end, you as well can feel that the end of the world approaches. It really makes the listener to feel as if they're really there while everything around them is a foggy mist where we're uncovering the unknown. The band members come from Oregon, and they take a lot of inspiration from Oregon's forests and look at the result!
It's complex, rough, and beautiful all at once; I'd definitely rank it as one of my favorite albums of all time.  Mostly, The Mantle explore the destruction of nature by the human race—In the Shadow of Our Pale Companion tells the story of a man who realizes that we literally live "in the shadow of our pale companion," nature, (which is pale, as we sucked the metaphorical blood out of it), that it is only the "death of man" that will save the Earth, and commits suicide in the end, his suicide symbolizing the death of man. It's much more moving when you understand it (though the music itself is great on its own), but the more you understand this album the more you'll love it. I would cite my favorites as In the Shadow of Our Pale Companion, Odal, and You Were But a Ghost in My Arms. But No song in this album really stands out from one another which makes it perfect for anyone to decide what their favorite song from The Mantle is. This is an album that will reflect on your lost ones that you hope that you'll one day see again; helping those mourners to feel that very out of the body experience from beginning to end, (using their imagination of what the afterlife is like and use their life experiences & memories in the mix) while you're still alive…
                                                                   Similar Albums

The Top Albums of the 2000s
          10) 
   9)  
   8)  
7)   
   6)  
   5)  
           4)  
   3)  
   2)  
          1)  
Related Articles