Number 10.  –  Sonic Generations
So, have Sega succeeded in making the best ever Sonic game? Yes, absolutely. They have taken the original premise of a classical platformer with boss fights played at high speeds and ramped it up to eleven thanks to the devious level design, funky effects and plethora of worlds. Added to this is an even better game in 3D which delivers the true Sonic experience in a new way. Granted, it's been done before but not anywhere near this well. As mentioned previously if this was all the game was it would be a pleasure to play anyway, but thanks to the volume and variety of challenge acts plus all the extras and things to spur you on to better scores and the like if you want to, the package is embellished even further with delights. It's not perfect, but it's definitely the best Sonic money can buy. Sega have finally altered the paradigm. Sonic Generations is a good 2D platformer and a great 3D one. It's the best of both worlds.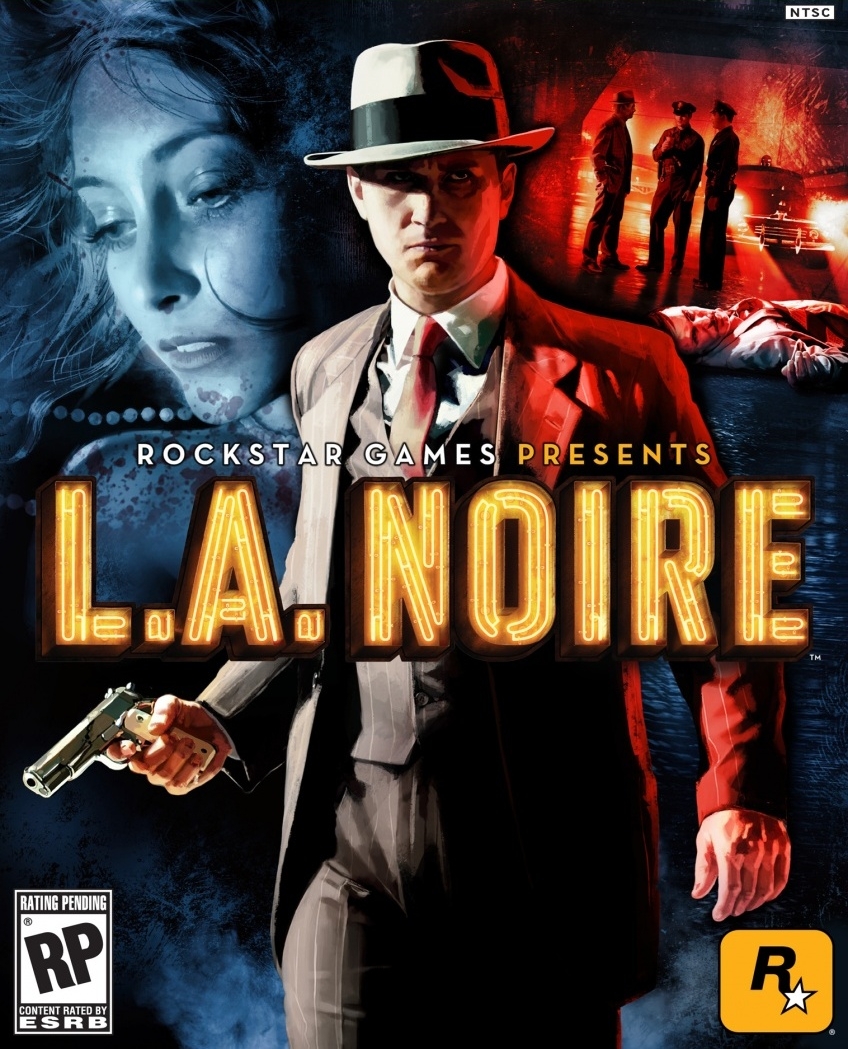 Number 9.  –  L.A. Noir
At first glance you may mistake Rockstar Games' newest open-world game has nothing more than another Grand Theft Auto clone.   But look closer, because Team Bondi's newest game has very little to do with Jack Thompson's least favorite franchise.  With its slow pace, emphasis on characters and graphic adventure roots, L.A. Noire feels more like Sam & Max than Grand Theft Auto.  But the rich blend of police procedural and intelligent writing has not only led to the most impressive game of the year, but also one of the very best titles Rockstar Games has published. L.A. Noire is unlike anything I've ever played before.  Sure it takes elements from other games (Grand Theft Auto, Phoenix Wright, etc.), but never before has a title managed to combine these things into something on this scale.  It's hard to believe that somebody would spend seven years making what amounts to a graphic adventure, but I certainly appreciate the job Team Bondi put in.  I have a hunch that L.A. Noire is going to be an incredibly influential game moving forward.  L.A. Noire is an intelligent game with stellar acting, game changing technology and a cast of memorable characters. It's also Rockstar Games' most refined product, making it one of the best games this high profile company has ever published. If you're into solving crimes and police procedurals, then this game was made for you. Just remember to switch to black and white!
Number 8.  –  Deus Ex: Human Revolution
Deus Ex: Human Revolution has been a long time coming. Its predecessor, Deus Ex, has been named one of the greatest PC games of all time and has sold more than a million copies worldwide. Its 2003 sequel, Deus Ex Invisible War, divided the fans and received a mixed critical reception. So what then of this third installment in the Deus Ex dynasty? How well does Eidos Interactive's third attempt at a dystopian FPS/RPG hold up? The answer, is well; but with caveats. For a game with as much depth of story and of action that Deus Ex Human Revolution offers you cant get too hung up on individual problems. The game needs to be looked at as a whole. As a complete package its clearly an impressive, engrossing experience. Its storyline is excellent, its characterisation, voice acting, score and script are very well done, and its aesthetic is deliciously dystopian. The only fly in the ointment is its binary combat mechanics. But these are not enough to detract too much from the overall experience. Deus Ex Human Revolution is a great game, and its one that all fans of the franchise should enjoy.
Number 7.  –  Portal 2
I'll give the sequel a lot of credit for try to surpass its original, but no matter how creative this game was, it was not better than the original.  Valve has proved time and time again that they are masters in their craft. Portal 2 is so expertly made that you can't help but savour its creation. The story keeps you engrossed, the gameplay is fine-tuned and accessible, and the co-operative mode is a blast. Keeping to recent form, Valve also includes a developer commentary mode, in which the team comment on the game's creation and bring to light aspects of the development process you would simply have glanced over. The Source engine also keeps pace. Early on, Portal 2 might appear a tad dated, but as the game sweeps you up in its lore it's impossible to nit-pick. Yes, the odd texture looks a little grainy, but Valve hides any technical limitations behind their impeccable art direction. Moreover, the voice work and soundtrack is such that visual quibbles will soon fade from view. What you have then is a package brimming with quality. The singleplayer campaign expands on the original and turns it into a fully-fledged game. The co-operative mode is an entirely separate beast, with different chambers and puzzles, and can be accessed via split-screen or online. And then, as a final treat, you can revisit Portal 2 and listen to the developers comment on this game's creation. Were life to imitate art, we might all be shooting portals and stepping out through the other end. Indeed, this is both mathematical and storytelling art-work; it teams a gripping narrative with an inventive gameplay mechanic that makes for an excellent and unforgettable ride.
Number 6.  –  Dead Space 2
If you're squeamish, then this could possibly be the most disturbing game for you. As for me who has seen a lot of violence, this is more of an action game. Lots of people would love to say that "Dead Space is just Resident Evil 4 in space," however what the Dead Space series does more successfully than the current Resident Evil games is to staying consistent with the scares. Though the series uses blood and gore as the selling point to scare people, it's the very nature of hopelessness in space and the many necromorphs need to kill that makes Dead Space 2 such a haunting experience. I favor for Dead Space 2's level design much more because it has more creative and has varied locations that shows that inside a spaceship can look more than what we all already seen like churches, nursery, etc. This is what makes this experience not only more like a breath of fresh air each section of the game, but also stick out some horror.
Number 5.  –  Dark Souls
Think back for a moment to the most challenging game you've ever played, but not the kind of challenge that resorted to cheap tactics and made luck a tremendous factor in succeeding. Instead think back to the game that challenged you to accomplish its tasks, the puzzles that resisted being solved and the bosses that could not be overcome in a single try. When you did succeed, how did it feel? Were you excited over your accomplishment, or walk away frustrated that the ordeal took so long? This kind of question is important when discussing Dark Souls, as it is a game based entirely around defeat and success. That said, calling it cheap is a flawed argument, considering that playing the game assumes that you accept its inherent difficulty. The packaging even warns you with a message on the back, "Prepare to die," in multiple languages. This isn't the kind of game that allows you to progress at a rapid pace, slashing through monsters and otherwise cutting a bloody swath from beginning to end in a few short hours. This is the kind of game where even the most emaciated of villains can dispatch you if you're not being careful. Dark Souls provides an amazing experience through a fantastic world, and it demands your patience and control every step of the way.
Number 4.  –  The Witcher 2:
Assassin of Kings
As an RPG it has everything you could possibly want; armour, armour upgrades, short and long range weaponry, loot, levelling, skill trees, crafting, magic, potion making and sexy time with other characters. It reads very much like a checklist for modern RPGs and that is by no means a bad thing, The Witcher 2 merrily ticks all the right boxes when it comes to RPG mechanics. As a player you are granted such freedom when tackling a given quest or combat situation it can be a bit daunting at first, however this is helped by the excellent button mapping job that has been done to accommodate the 360 controller.What is definately not like an old school RPG is the tight responsive combat. Peering over someone's shoulder while they play The Witcher 2, witnessing them hacking away at multiple enemies it would be easy to ask the question "is this a new hack and slash title?" NO, it really isn't. The wealth of combat options available coupled with the well mapped responsive controls makes for some enthralling battles but by absolutely no means is this a mindless button basher. At times it is punishingly difficult but never frustrating and ultimately if it all gets too much you can pop to the menu drop the difficulty for a few minutes and move on. The only real criticism that can be levelled at the combat is the sometimes odd hit detection, making it tough to know if you have been wounded and the odd sound drops when taking on multiple enemies.
Number 3.  –  Batman: Arkham City
Video games related to comic book heroes don't have the best of reputations. It's quite strange, because the source material is all there – you've got rich lore and you're going to end up playing a super-charged character. Yet developers always found it hard to transition this into a functional game. Well, that was until Rocksteady got their hands on the Batman franchise. Arkham Asylum did what so many other super hero games had failed to do beforehand; it made being a super hero fun. Now Rocksteady are looking to do it again with Arkham City, a much more expansive tale that they hope can turn this into a successful franchise. Although, Batman: Arkham City is not perfect, Rocksteady have proven once again that they can make a super hero game work and work rather well at that. Arkham City provides players with hours of content layered underneath a solid storyline and compelling gameplay. Now that Rocksteady have made Batman an open world experience, it's hard to say what innovations they'll bring into the next game, but for now, Arkham City can proudly hold the torch as one of the greatest superhero games of our generation.
Number 2.  –  Rayman Origins
Rayman Origins perfectly embodies what made many of us fall in love with gaming in the first place. It's a nigh-on flawlessly executed romp through intricately designed levels that boast the most gorgeously detailed and vibrant visuals you'll see this generation. Tight controls, a perfectly judged difficulty curve, fantastically surreal boss fights and tons of replayability go that extra mile to make sure that after years of being relegated to countless remakes of Rayman 2 and having those pesky Rabbids stealing his thunder, Rayman is back on form and back in the spotlight where he belongs. Drop-in/drop-out cooperative play for up to four players is the icing on an already sumptuously sweet cake. If you have any love for 2D platformers — and the idea of getting your friends together for an encore of New Super Mario Bros. Wii's four-player action appeals to you — you'll pick up Rayman Origins straight away. It represents the very pinnacle of 2D platforming and is undoubtedly one of the Wii's very best games. Truly unmissable.
Number 1.  –  The Elder Scrolls V: Skyrim
Though it's far from perfection, this is the one role-playing game that fulfilled our dark fantasies come to life. The Elder Scrolls V: Skyrim is every single reason to love a Western role-playing game, condensed into a single comprehensive experience with nothing lost in the conversion process. It is a game that will drown those who step into its absorbing, overwhelmingly detailed world, a game that will bury you and refuse to let go. Yet your submergence will be agreeable, your burial ecstatic, and the hands placed around your throat welcomed like those of a lover's. To play Skyrim is to enter into a relationship, one that provides feelings of empowerment, yet demands total submission.
How is it that after 60 hours of The Elder Scrolls V: Skyrim, the first thing I want to do when I finish writing this review is play more Skyrim? It's simply because, like Bethesda's Elder Scrolls and Fallout games before it, Skyrim offers a fantasy world so rich and expansive that to describe other games in those terms after playing this one would just feel hollow. The sheer amount of content packed into the game is a true marvel of video game production; it's even more marvelous that all of it is so well executed that you want to see and do everything, and better still that you're free to play it all in whatever way you want. Unsurprisingly, Skyrim isn't perfect in a technical sense, but it gets close enough to fulfilling the potential of this specific role-playing format that the experience it offers is absolutely essential.
You'll probably have your own set of stories about the crazy things that happened during your many hours in Skyrim, including a horse fighting a dragon, and a conjurer who raised a slain chicken as her undead minion during a battle. Those both happened to me, by the way. Aside from the infrequent hard lockups and such, the oddities that tend to pop up in Bethesda's games have almost become part of the charm for me, though you know yourself how much those things detract from your own experience. But it hardly matters. No other game I know of operates with this many moving parts to create such an immense world filled with this much choice in how you engage its excellent, endless fiction. It's one thing when a game offers dozens of hours of gameplay; it's quite another when that gameplay is good enough you'll want to live in its world for that long.
No other game I know of operates with this many moving parts to create such an immense world filled with this much choice in how you engage its excellent, endless fiction. It's one thing when a game offers dozens of hours of gameplay; it's quite another when that gameplay is good enough you'll want to live in its world for that long.