So what makes a Wrestlemania match to have different approach than any other wrestling match? How about being that it's on the grandest stage of all of Wrestling and the whole world is actually watching this very wrestling show? That means that the storytelling, in-ring action, crowd reaction, and the quality is very much higher than any standard wrestling match. It's the whole reason why they need to make the name "Wrestlemania" a special event! Though I've seen plenty of so-so to bad matches in the 30 Wrestlemanias, there has been a handful of matches that changed many lives. Trying to pick the best matches in Wrestlemania is like trying to pick your favorite track from your favorite band/artist. You have to experience all of their albums to discover/revisit what you love. Even though Wrestlemania has been both infamous for bad card structures and also famous for plenty of pleasant streamline matches, you can probably find a a worthwhile match the card. It is actually possible to have a bad Wrestlemania to be saved by one match and if a match has the power to do that, then that should tell you about the magic of wrestling, which often happens at Wrestlemania. These matches that I've picked here left me in complete amazement and (especially in the Top 5) has changed my life. These are the best matches in the grandest stage of them all and some of the most impressive matches in professional wrestling in general!
Number 10.  –  Triple H vs. Shawn Michaels vs. Chris Benoit – Wrestlemania XX
Chris Benoit had to face the best of the best throughout 2003 and had to win the Royal Rumble 2004 Match to have this shot. He had to get involved in the rivalry between Triple H and Shawn Michaels feud (that started back in Summer 2002) because all three men wanted the World Heavyweight Championship. And they showed. It was the first triple threat main event in a Wrestlemania and it's remains the best triple threat match that I've ever seen in my life, let alone the best Wrestlemania main event. It was in-ring work that was passionate and eruptive where all three men were so desperate to win this very match. Each of them gave all they got by delivering so many grappling technical moves and less brawls than we normally expected when it comes to anything with Triple H involved. Chris Benoit fought so hard against the two best Raw stars that both of them ended up bleeding like a stuffed pig. One of the most memorable moments of the match was when HHH and Michaels' suplex Benoit from one announce table through another. It really looked like it was going to put Benoit for good, but the finish had him recovered to take HBK out of the ring and put HHH in the cross face. This was the perfect finish to one of the best Wrestlemania main events of all time and I didn't not want it any other way than to have Benoit to make "The Game" tap out.  Nothing to me felt so relieving than to finally see HHH (with all the burying he did to his opponents and shoving himself down on our throats from 2002-2003) tapped out and put Benoit over to become the new World Heavyweight Champion.  If you're a wrestling fan, seeing Benoit win the championship after a lifetime in the business, after the critics called him too small, too one dimensional, this is a moment that still brings chills. And to put icing on the cake, Eddie came back to the ring just to have these two celebrate their victories together. It that very moment that I've cried because of the triumph that they both accomplished together from ECW, WCW, and now the WWE.
Number 9.  –  Edge and Christian vs. Dudley Boyz (c) vs. Hardy Boyz – Triangle Ladder Match – Wrestlemania 2000
For a debut match for all three of these tag teams, and see them gave us their all shows how awesome this match was. At first we were looking into this match like a ladder match with a lot of wrestlers involved, but suddenly because of the Dudley Boyz (may favorite tag team) being so obsessed with tables and hardcore wrestling, this all of the sudden turned out to be a Tables, Ladders, and Chairs match.  I kid you not that way they used the ladders and then suddenly turned out to be more hardcore when the tables and chairs got involved. It was a brilliant change of tone for this match and each of wrestlers flew, fell, and bumped each other in the most dangerous way fashioned. For a bunch of young guys giving it their all, they were able to show epic storytelling in a wrestling match. I remember Edge took a diving spear on Jeff Hardy from the ladder, Buh-buh Ray gave Christian a cutter from the ladder, Matt Hardy power bombed to the table and the Swanton Bomb from that Jeff Hard did just to take the Buh-Buh Ray away. The finish of this match was some of the most epic moments ever as Jeff sacrificed his body to land on Buh-Buh out of the ring through the table. Edge & Christian were the last ones left facing D-Von and Matt Hardy as they raced to grab the tag team championships. The survivors were emotional just to win this carnage. As Matt and Christian were fighting each other on top of the table held by two ladders, Edge came to the rescue and pushed Matt off to the table below and won the tag team championships. What a beautiful finish to a match to a bunch of small stars that all became big names after the match.  All three of these tag teams has gone through a lot just to have a Wrestlemania match like this one and because of their fantastic display of wrestling, this has made the tag team division so important!
Number 8.  –  Shawn Michaels vs. Stone Cold Steve Austin – Wrestlemania 14
This was the match that set the standard of what the Attitude was all about. Shawn Michaels was infamous for being responsible for the Montreal Screwjob and he had no sympathy for what he has done to Bret Hart. The only man left that was worthy of facing The Heartbreak Kid at a Wrestlemania main event was the man who did not tap out when he face Bret Hart in last year's wrestlemania; Stone Cold Steve Austin. Because Austin showed how much of a badass he was when he passed in the sharpshooter and started to piss Vince McMahon since, got his popularity rising up and this was the match that he needed to forever establish himself as the all time great! Austin set himself for trouble when he got the whole D-Generation-X, Vince McMahon, and even Mike Tyson to go against him, how's able to win this match? The answer, do what Stone Cold does best. Shawn Michaels was also in some serious shit when he injured himself in that Casket Match against the Undertaker at Royal Rumble 1998 and it didn't look like he was going to last very long in this match. Surprisingly enough, he managed to keep up with the match and did his best to keep Austin down. For a man with an injured back, Shawn was able to move just like he normally did. Still, Austin gave Michaels a beating of a life time and the crowd was cheering with all their might for Austin to win. It was insane that Triple H and Chyna interfered in the match to save Shawn but was sent out of the ringside area to continue their one on one fight. The moment Stone Cold hit the stunner on Michaels, Mike Tyson came in the ring and fast counted for Austin's victory having Jim Ross shouted "Austin! Austin! Austin! The Austin Era has begun!" and right he was. Shawn represent the New Generation Era and the times had to continue with Stone Cold Steve Austin as the face of the company. 1998 was the year of Austin and McMahon as their rivalry really brought back the audience to tune back into the WWF's product. The best part of the whole match was the aftermath when Shawn got back to call betrayal to Mike Tyson only to get punched square in the face and lie flat on the floor. This was the right booking for the right winner and it was certainly one hell of a memorable Wrestlemania moment!
Number 7.  –  Dudley Boyz vs. Edge/Christian vs. Hardy Boyz – TLC2 – Wrestlemania X7
This match between Edge and Christian, Dudleys, and Hardies is not only better than their previous Wrestlemania match, but perhaps one of the best ladder matches that the WWE has ever delivered. It's crazy to see all six men risking everything [again] in the same style of match-up, but do it much more radically! Everything seen from last year's Wrestlemania triangle ladder match is doubled here in this match. You want to see Jeff Hardy take a top ladder leap, you have twice of those! You want Buh-buh Ray power bomb through tables, you got twice of the amount! You even want a better spear by Edge done in this match, you certainly got yourself the best spear in wrestling. You get the picture. This match saw many different risks that were taken and when Edge hit Jeff Hardy, who was hanging mid-air from the belts, with a spear, it became one of the most jaw-dropping moments ever in the history of Wrestlemania. Just when you thought it wasn't enough Spike, Rhyno, and Lita came done for interference to save the team they're routing for, only to as well get involved with the collision everyone's taking in this match. Because this match was filled with so many risk-taking things, it is obviously seen as one of the most hardcore/extreme matches the WWE has ever put on. If Wrestlemania 17 really was the end of the Attitude Era (which certainly isn't) they certainly left us one hell of an impression of everything appealing and exciting about this era of wrestling into one singular wrestling match. Now there are people who argues that this match wasn't as good as the Triangle Ladder match in Wrestlemania 2000, and it's really hard to argue with that because I don't believe Edge and Christian had to win this match again and the finish felt a bit soulless and emotionless compared to the finish in the last year's Triangle Ladder match. This match embodies why it takes everything you got to win a singular ladder match and it's still worth watching time and time again!
Number 6.  –  Shawn Michaels vs. Kurt Angle – Wrestlemania 21
This match's story was really well-told and the build up was insane! Angle is facing his least favorite wrestler. He was angered at the fact that Shawn eliminated him at the Royal Rumble 2005 match and made it personal by revealing his secret hatred. The build up got really personal when he claims that on the day that Kurt Angle won his Olympic Gold Metal in 1996, everybody was talking about Shawn beating Bret in Wrestlemania 12 instead of his victory. Shawn Michaels versus Kurt Angle was nothing more than a fantasy match-up for a number of years. It started out with a pure mat-wrestling, which was a surprise because HBK never done this before, but he kept up Angle's pace perfectly! Then the two start to show their grudges against each other by making this match more physical and violent. A slow build to fiery end as the two technicians give fans everything, and that's what storytelling really means in the wrestling world. I still remember Kurt tried so desperately to German Suplex Shawn to the announcer's table, but after HBK knock back Kurt to lie on the table, Shawn applied a moonsault from the apron to the table. That was one of the most insane moments of the entire match. From submission holds to high-flying action to an breathtaking ending that saw both men receive standing ovations. Angle hits the Angle Slam off the top rope, HBK hits Sweet Chin Music, then after kicking out at two, nothing could put either man down. That is until, Angle applied his final the ankle lock, that really damaged HBK's leg. After a fierce fight, Michaels taps. This is Shawn Michael's fourth best Wrestlemania match and it is hands down Kurt Angle's best Wrestelmania match ever!  This was a Dream Match that had been discussed for years amongst hardcore wrestling fans. Kurt Angle and Shawn Michaels were at their best and the fans began demanding to see this great match. The build, the anticipation, and the payoff couldn't have been better.

Number 5.  –  Shawn Michaels vs. Razor Ramon – Ladder Match – WrestleMania X
Bing that this was the first ladder match ever on WWE PPV, is probably one of the best one ever as well. Shawn Michaels had been the Intercontinental Champion until he got suspended and had to forfeit the belt. Razor Ramon was the new Intercontinental Champion with Michaels out and when the Heartbreak Kid returned, their was dispute over who was the real champion. There was so many creative ways that they used the ladder against each other that left an imprint on both of their careers. HBK went out there and had a match with the ladder. For that time in wrestling, it was one of a kind and nothing we have ever seen before! The bumps these two were taking were amazing and had our eyes glued to the TV. No wrestling fan will ever forget the splash HBK took from off the ladder to Razor. That image will remain as one of the most important images in WWE history. No matter how many times they used the ladder against each other, each of them kept coming back after each other and punish each other some more. I'll never forget that ingenious finish at the end where Shawn Michaels got caught up on the ropes as he struggles to free himself as Razor climbed on the ladder to reach the Intercontinental Championships. Although Shawn Michaels put on one of his best performances ever, Razor Ramon won the match and became the undisputed Intercontinental Champion, a fine finish to some of the most talented and appealing wrestlers in the WWF. This was the very match that embodies the New Generation Era. Razor and Michaels had a second Ladder Match again in SummerSlam '95 but it wasn't as beautifully worked as their match at WrestleMania X.

Number 4.  –  Bret Hart vs. Owen Hart – Wrestlemania X

It has been debated which match was the best part of Wrestlemania X? Well since I've already mentioned the ladder match in the Number 5 pick, obviously I had have to go with Bret vs. Own as the best match of WMX. This is without a doubt the best opening match that I've ever seen! We're talking about two brothers going at it one-on-one by delivering the best technical match you can possibly ask for!  On any other night, the classic between Bret "Hit Man" Hart and his brother Owen Hart would have been considered the match of the night. The Hart brothers put on a memorable clinic in their opening match of WrestleMania X. Owen had an early advantage and worked on Bret's injured leg for much of the match, but Bret looked to have things going his way as the match progressed. Both brothers connected with a bulldog, piledriver, superplex, sharpshooters, and almost every wrestling move that I can imagine all put in here but nothing could keep each other down. You have to see this match to believe how much of a masterpiece of a match that they've created. Bret tried to send Owen into the corner with an Irish whip, but Owen countered and followed him in. Bret went for a victory roll, but Owen reversed into his own pinning combination and scored the major upset, but it still is today the best opening match in any PPV. We'll never see Owen be a main eventer, but Bret unselfishly gave his brother a moment to remember, even despite the fact that he had a main event match on the same night. I mean it when this match is very good and it deserved to last as long as it needed to be because it was a fantastic feud between the two. It was all athleticism in wrestling at it's purest and it should be watched if you want to get into the wrestling business. love this match and this holds up as the best match of Wrestlemania X! For the fact that we have Wrestlemania X matches in this Top 10 should show you why Wrestlemania X is one of the best wrestling shows of all time!
Number 3.  –  Bret Hart vs. Stone Cold Steve Austin
-Submission Match – Wrestlemania 13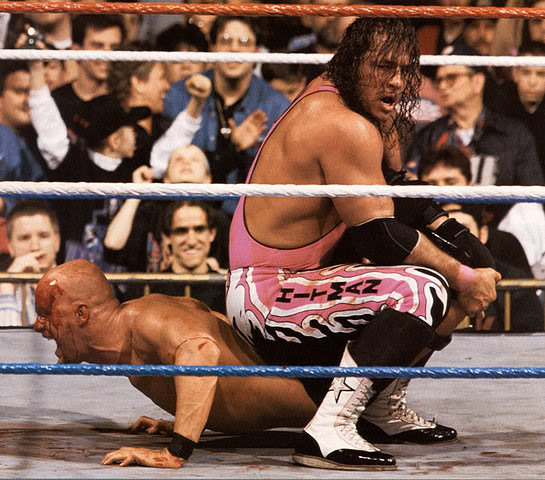 Since the age of anti-heroes are celebrated, the only wrestler that couldn't stand many of the changes happening to the WWF was Bret Hart. It is crazy to see Stone Cold playing as a heel somehow catching everyone's attention and cheer for him, while the traditional babyface like Bret Hart are getting despised for not being as awesome. 
 Though Bret was sorrow for losing to Shawn Michaels in the Iron Man match at Wrestlemania 12, he has redeemed himself by putting on a much better Wrestlemania match with his best rival Stone Cold Steve Austin. It would be on this night that Austin would truly become "Stone Cold" and begin his march to the top of the WWF. This match would be one much different than their Survivor Series battle. In the fact this was less of a wrestling match and more of a street fight. Bret Hart came in as the face and Stone Cold was the heel, but after this match, which Bret Hart was declared the winner, their roles switched and made Stone Cold Steve Austin the star that he is today. This match was filled with the use of outside objects used to ram each other and Austin was cut open and bleeding from his head like a stuffed pig. This match was certainly not Hart's specialty, but you wouldn't know it by watching the match. "The Hitman" was just as ruthless and cold as Austin on this night, eventually leading to the unforgettable
Shapshooter that would leave "Stone Cold" unconscious and bloody in the middle of the ring.  Although Austin never said the words "I quit," he passed out from the pain and loss of blood, so referee Ken Shamrock declared Hart the winner. Austin may not have won the match, but his performance made him the new top guy in the company. Everyone respected Austin passing out in the puddle of his own blood rather than giving up. This match sparked the 'Attitude Era' and was the birth of Stone Cold Steve Austin as the face of the company. I still regard this as one of the best wrestling matches I've ever seen. If there's one wish that I would love to see come true is if Bret Hart stayed with the company longer to make many more memorably moments in the Attitude Era.  But whatever the case, this is the one match that certainly opened door to this beloved era of wrestling and since then we honor this match for allowing the WWF giving its fans many more like this one many years to come!
Number 2.  –  The Ultimate Warrior vs. Macho King Randy Savage
– Retirement Match – Wrestlemania VII

The rivalry between these two wasn't as big as Hogan vs. Warrior in Wrestlemania 6 or Hogan vs. Savage  or Wrestlemania 5, but I can easily say that this was no doubt the best Wrestlemania match of both of their careers. Yes, I said it! This match was better than Ricky "The Dragon Steamboat vs. Savage at Wrestlemania 3 and Warrior vs. Hogan at 'Mania 6! The stipulation was the loser of the match has to retire and the stakes were so much higher than anyone's booking in a Wrestlemania. Warrior came in walking (not running) in the ring trying to save his energy because never was a wild man like him ever so serious about one match. The match started with each man posing for the crowd as Macho King gets booed and Warrior gets cheered. From then on, the match kept pacing itself effortlessly with great athleticism and amazing backfire of the ruse of Savage and Queen Sherri. Sherri's involvement in the match was pure genius as it continues to bring heat on the king and queen. It was babyface vs heel at it's finest as Macho did everything imaginable to take down the power of the Warrior. I never seen a match between two wrestlers to be so intense that it continues to bring chills down my spine because it combines physicality, athleticism, showmanship, and technicality all into one and it went non-stop. Sherri was definitely the most hated in the match because of interfering way too much in this match that made Warrior so desperate to knock her out.
Just a perfectly booked match with so many memorable moments throughout! I still can't believe that Warrior kicked out of five top-rope elbow drops by Macho King and Macho kicking out of Warrior's press slam-splash combo. I still couldn't believe how unpredictable this match really was and it kept me wondering who was going to win this match. Nobody wants to retire when they're still at their prime and both of these wrestlers showed their passion of this sport because of everything they've done in this match. Warrior was about to leave the match because neither one of these men could give up this match but the excitement kept going non-stop. And then finally this match finally ends when Warrior applied three running shoulder blocks on Savage that took the wind out of him that left him out of victory.
But the story of this match doesn't end there. The real drama, however, occurred after the match when Macho was attacked by his manager Sensational Sherri and then saved by his former manager and ex-girlfriend Miss Elizabeth. As the real life couple reconciled, there wasn't a dry eye in the house. This was some of the best babyface turn I've ever seen where even though the heel lost the match and his manager, he won everyone's hearts by returning to his lover Miss Elizabeth. There is a clear reason why these two deserve my ranking of as the number 1 couple of professional wrestling! We've waited forever for these two to come back together and there was no perfect time to put these two back together than in Wrestlemania 7 that lead to the best on-screen wedding in Wrestling at Summerslam 1991. This is a match that goes down as one of, if not, the best Wrestlemania match of all time because it went beyond anyone's expectations and towards the end of the match, the loser is celebrated like the Rocky movie! It's a moment that can never be replicated and it holds a special place in many of our hearts!

Number 1.  –  Undertaker vs. Shawn Michaels – Wrestlemania 25

This is without question, the best Wrestlemania match ever! We're talking about Undertaker who started to get really good when he started taking on Championship matches with Edge and Batista and trying to beat the streak became more important than any wrestling championship. And we're also talking about Shawn Michaels who had a fantastic comeback making some of the most memorable Wrestlemania moments and matches since his return like facing guys like Jericho, HHH & Benoit, Kurt Angle, Vince McMahon, and retiring Ric Flair. These two couldn't face off at a better time. These two came from the Hogan-era, the new generation, attitude era, the brand extension, and the PG-era and were still standing strong to show why these legends are as good as it is told. And what we got here is of the greatest and most magical experiences a wrestling fan ever had in their lives. And from their contrasting Heaven and Hell entrances to the climactic ending, everything about HBK/Taker was just magic. As I watched the match progress, my excitement, suspense and disbelief grew as I witnessed two legends wage war in that very ring. It was wonderful to see both of them do their signature moves that was never done better. There were aspects of the match that almost look like a botch but moved incredibly fast to the next move before it becomes a mistake, like Taker dodging down from a Sweat Chin Music and Shawn make it a figure four.
Then the Undertaker took his signature WrestleMania dive at Michaels, only to have one of the nastiest crash-and-burns I had ever seen landing on the cameraman. I was in disbelief at what just happened. And soon Michaels and the referee were back in the ring, and the referee began to count. I could not believe what I was seeing, and neither could everyone else. I urged Taker to get up, not wanting this great match to end a count-out, and as the count neared 10, it seemed more and more likely. And just before the 10 count, he slid back in! I roared with a great cheer, overjoyed that it did not end that way. With one simple count, these two managed to evoke an emotion that we rarely feel. These two men made you believe that this match was really going to end the way it nearly did, and told a phenomenal story through it. The match continued, and I watched as these two men delivered their signature moves to one another, every single one failing to get a three. Every time a two count was made, I felt more and more suspense fill my being. I was literally holding my breath, goosebumps were all over my arms, and shivers were coming down my spine.
Then Shawn Michaels tries to skin the cat, but Taker catches him and hits him with the Tombstone! At that moment, I thought the match was over, but as soon as Shawn Michaels kicked out before the three-count, I had that feeling like I never felt before. As Jim Ross puts it "I just had an out of body experience" and immediately I had the exact same feeling and Jim Ross delivered his best commentating in his entire career! That's the power of storytelling in professional wrestling; this match captures that every essence. The Reliant Astrodome blew the roof off as surprise, shock and disbelief overcame me. I could not believe what I just saw. Michaels kicked out of the Tombstone Piledriver! Undertaker's face was on of disbelief, and I couldn't blame him. That was impossible. It was at that time that I began to wonder if Michaels could really do it. Could he really do what 17 others before could not? Could he defeat The Undertaker at WrestleMania? Is he going to really break the streak?
Moments later, Michaels hits Sweet Chin Music! I can't believe it! HBK did it! He actually did it! ONE! TWO! THR-KICK OUT!!! I could not believe what I just saw! Taker kicked out of Shawn Michaels best Sweet Chin Music! This is unreal! What the hell was it going to take for either of these men to win? I knew at that moment I was witnessing history. I was witnessing a classic that people would talk about for years to come! Not too long after, Taker beautifully caught Michaels as he went for a moonsault and delivered a second Tombstone Piledriver. One! Two! Three! And with that, the greatest match of all time finally came to a close, and Undertaker went 17-0. On one spring night on April 5th, 2009 in the Reliant Astrodome, Michaels and Undertaker created something special: a match that perhaps no one could ever come close to. It was a match that truly defined what modern wrestlers should strive for and it's a real privilege to see the best that professional wrestling had to offer! These are the two that were the masters of in-ring storytelling, in-ring work, and controlling the audience and because of this match delivered on a very special wrestling match. The feud continued in 3 more Wrestlemanias with the rematch of having Shawn Michaels retired after his second defeat in Wrestlemania 26, Triple H brawling Undertaker in a street fight in Wrestlemania 27, to "An End of An Era" facing off in Hell in a Cell at Wrestlemania 28 against Triple H with Shawn Michaels as the special guest referee. Each of those matches were the best match of those shows, but where it all started remains the best! The Undertaker vs. Shawn Michaels match at Wrestlemania 25 still remains the not only the best wrestling match of all time, but it's one of life's true delights!
The Top Listed Greatest Wrestlemania Matches
10.    
   9.    
    8.  
7.  
    6.   
   5.
4.   
   3.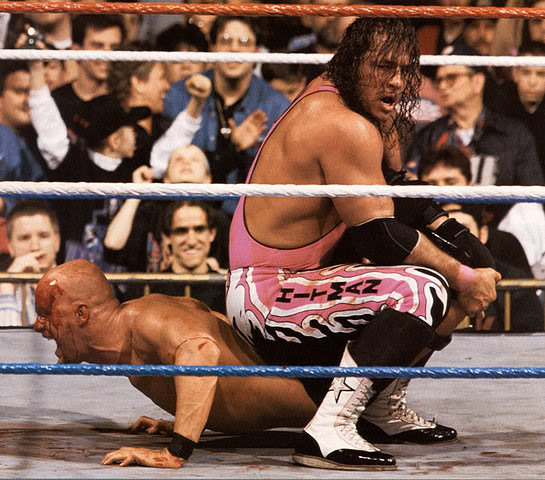 2.  
                                  1.   
Related Articles